Our Work
BUILD YOUR BUSINESS ONLINE! Call us on 0191 5561031

Some of our recent projects. Click on the links below to view some of our most recent
Case Studies...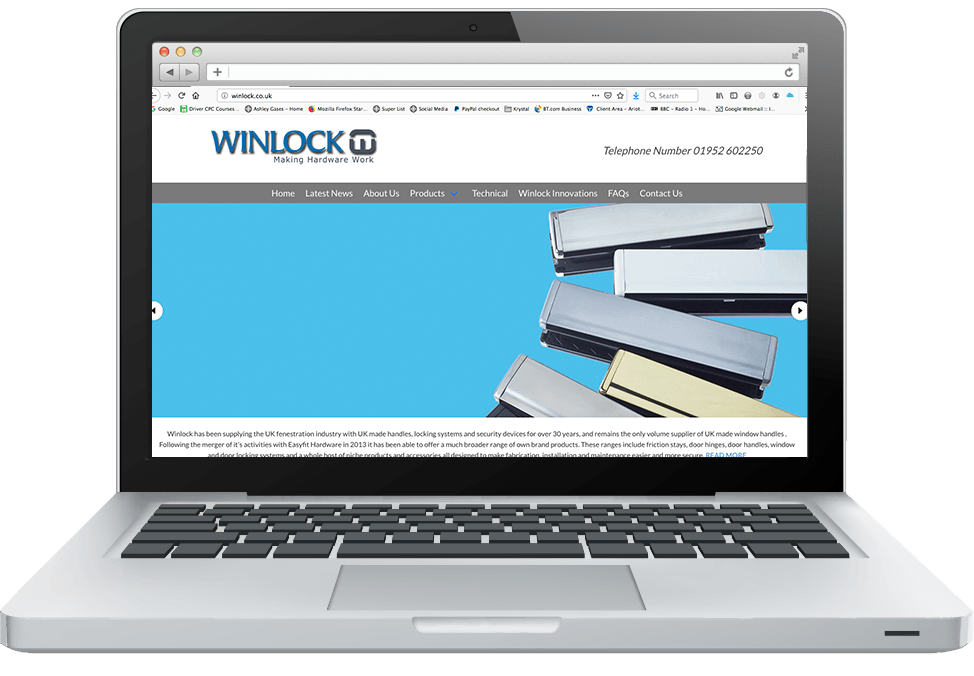 Revamp launch this week (October 1st 2019) of a clean new look for the website of our long term client Winlock of Telford in Shropshire who are the only remaining volume manufacturer of window handles in the UK. Well done to Davinia and Irena at Winlock who have contributed massively to the build of the new site and populating the products section internally from (their) client side, using our StartASite software.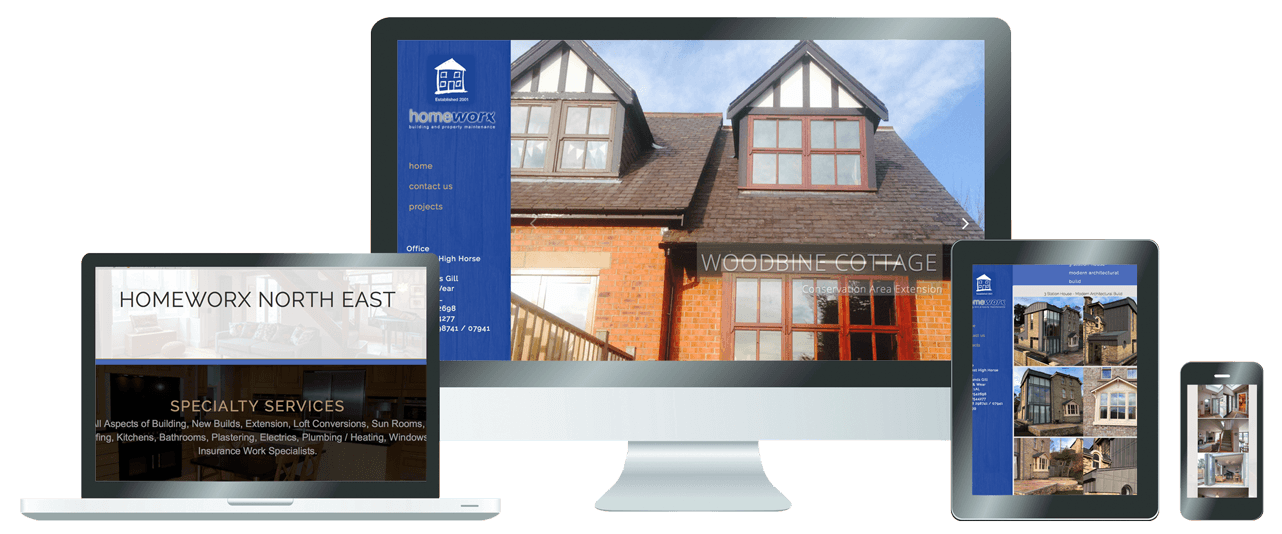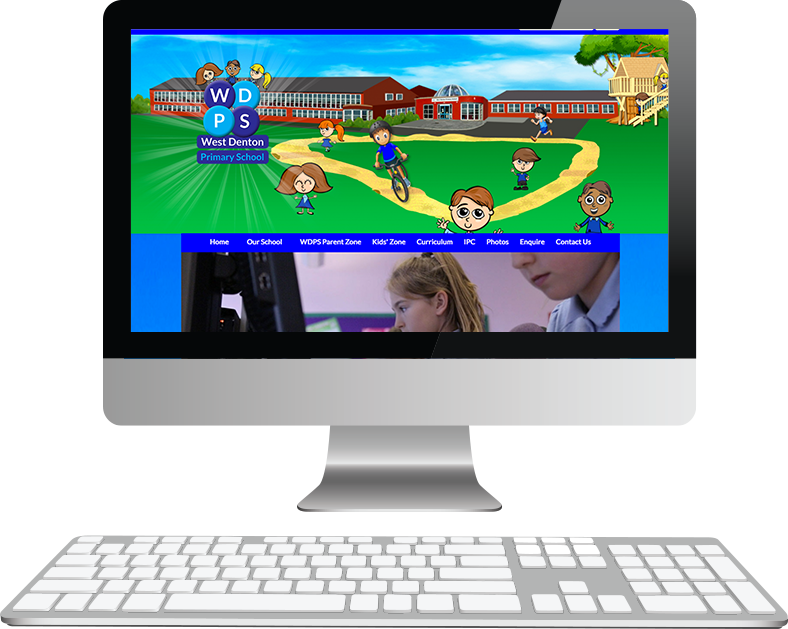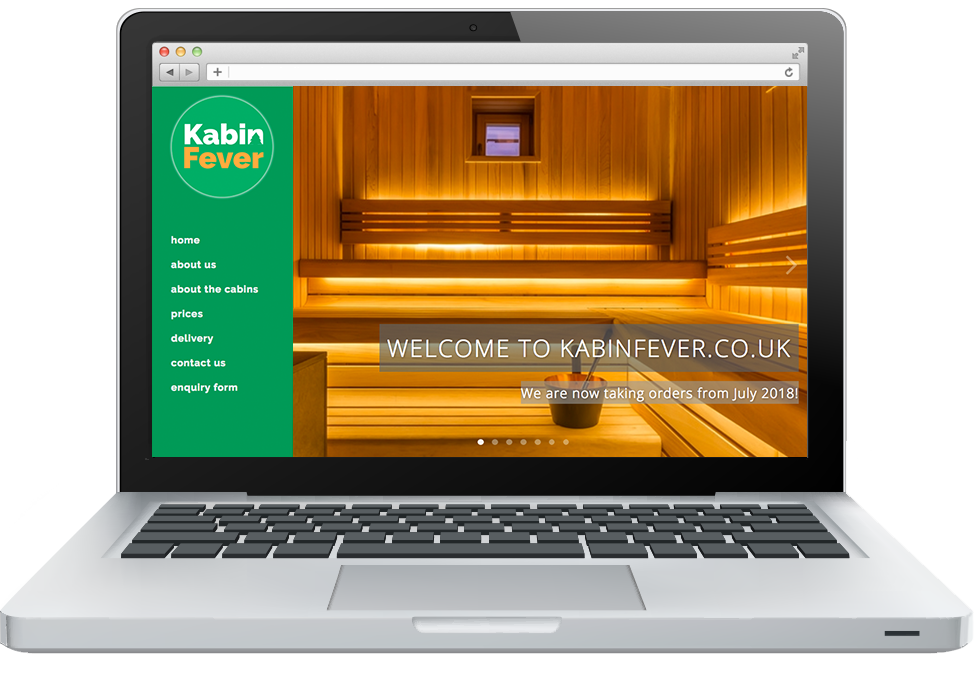 Are you looking for a website designer in Sunderland?
The benefits of dealing with us are
* We've been established since 1995
* You can deal with us in person. Visit us during normal office hours
* We can spread the cost of your new website
* Plain speaking we wont try and blind you with techno babble
Call us on 0191 5561031
Are you looking for the best price on a new website near Sunderland, Durham, Newcastle?
We can give you a great no obligation quote on revamping your current site if you need to move it to us!
Our Services
What we do
NRG Digital.
Pay as you go website design in Sunderland, North East England and beyond
Call us on 0191 5561031
Wednesday 16th October 2019 -
Feeling autumnal today here on the Roker Riveria, wet and miserable. By the way, we are at work every day (Monday to Friday) at an office you can make an appointment to come and see us at and have a chat. A lot of website designers work from home. But benefit of dealing with NRG Digital however is that we have a permanently staffed office (Monday - Friday 9.00 am to 5.00pm) and have done so for the full term of our time in business. We started building websites in 2000 (and before that we designed for print) and have a proven track record over the last 20 years. Call us now on 0191 5342003 to make an appointment to discuss your needs. Or click here and we will get back to you.
Monday 30th September 2019 -
Launch of a new site today (revamp of their old one) for Commercial Joinery Specialists Ltd.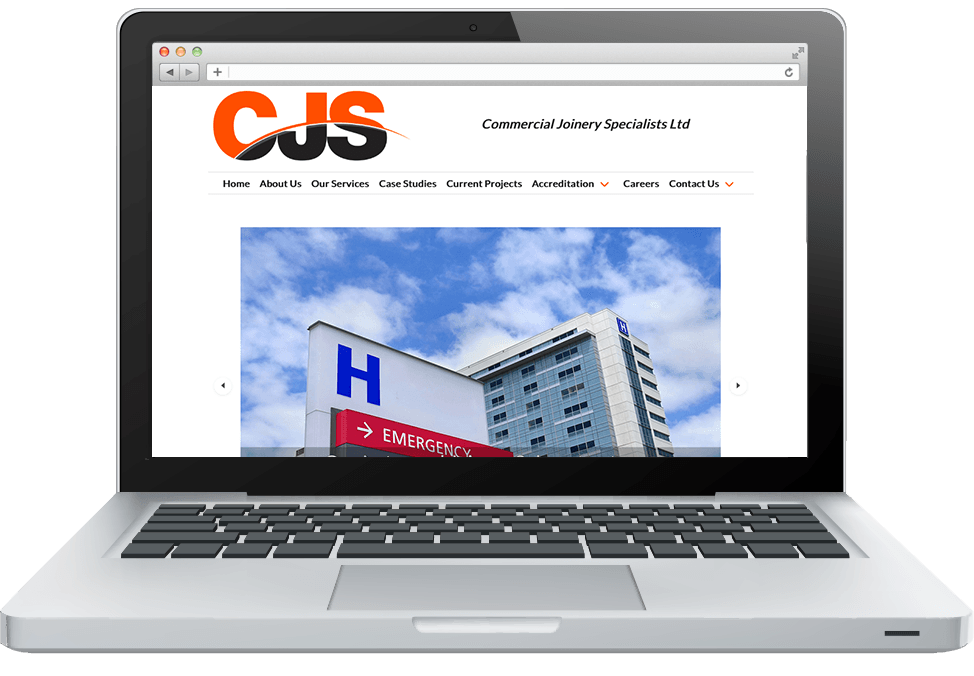 The directors of CJS Ltd came in to our offices for regular meetings over a period of a few months to work out which projects to showcase as case studies on their new website. If you feel that you would benefit from face to face 'brainstorming' sessions on what to include on your new website contact us today!
Thursday 14th December 2018 -
Giving a big push to Terry Butler's new website Sunderland Boiler Repairs. If like me you pay someone like Homeserve a monthly fee to service your gas boiler, (actually they don't even really do that) more there as support if it break's down but are considering switching away from that to a trusted local tradesman, look no further than Terry. Terry is a long establised qualified gas repair man with a proven track record and great feedback on the likes of CheckATrade. So, if you live in the Sunderland, or County Durham area keep his details safe by visiting his website just in case we have another winter like last year!
One of our flagship projects at the minute is our UK Driver CPC Network site. With it's sister site North East Driver we aim to give them both a fresh new makeover with a new logo, a big push up Google and a concerted effort across social media. We've also started to get in to the Pay Per Click side of things on Google and up to now we are finding it quite interesting. We will maybe use this site as a case study and start to offer this as one of our services all going well. With the Google sponsored ads I've always been a bit sceptical about this and I remain not totally convinced.
Wednesday 18th July 2018 -
What a great idea! Turning shipping containers into timber clad luxury holiday cabins for your back garden! So for luxury bespoke Kabin installers for your back garden in the North East visit the new website we have developed for Kabin Fever Ltd. We will be giving this another big push again soon!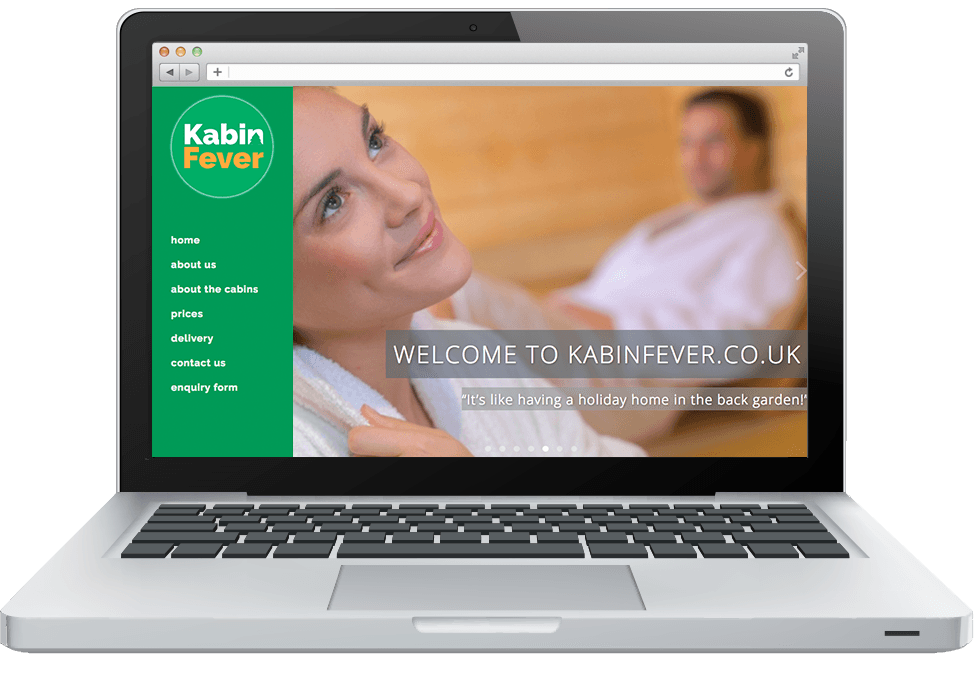 Meanwhile over in Newcastle, good to see yet another testimonial come through for Smith Tile & Stone (Luxury Bathrooms in Newcastle and the North East).
Friday 4th May 2018 -
We have just recently completed a revamp of a website we started four years ago for Alpha 7 Express Couriers. They requested our development team add a new 'Get A Quote' function on the home page which enables potential customers to plot a price from 'A' to 'B'. Once your website is built you can also add extras like this on a 'one off' payment basis. Peter at Alpha7 has since told me this new feature really worked well for him when a contract he has for a local tier one automotive supplier to Nissan made great use of this price calculator to use him for multiple bookings!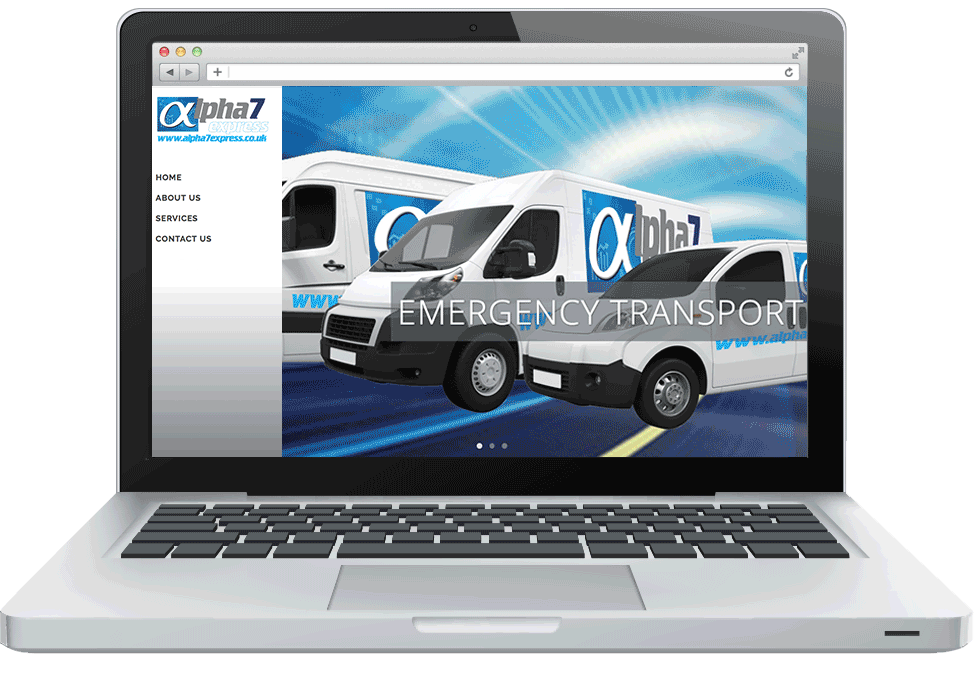 "Amazing fast, efficient service from Gary... Highly recommend to any business for amazing website results." - Courtney Snowball, Alpha 7 - May 2018

Thursday 26th April 2018 -
Going live today, a simple 'brochure' site for Brian the Builder (Avenue Builders and Landscapers Ltd). Brian has been coming to us for years for his printing and we have finally talked him into getting a basic 8 page website! All it took was a £200.00 plus vat initial build deposit and Brian will now pay £25.00 per month (plus Vat) to keep his site up to date. Brian does some really good work and by his own admission was probably underselling himself by not having a website. All that has changed now and Brian's new site is now live displaying a lot of the great projects he has completed mainly in the niche market of themed playgrounds for primary schools. Now any potential Head or Deputy Head teacher can check out Brian's work online. If you are a local tradesmen looking to get a new website click here...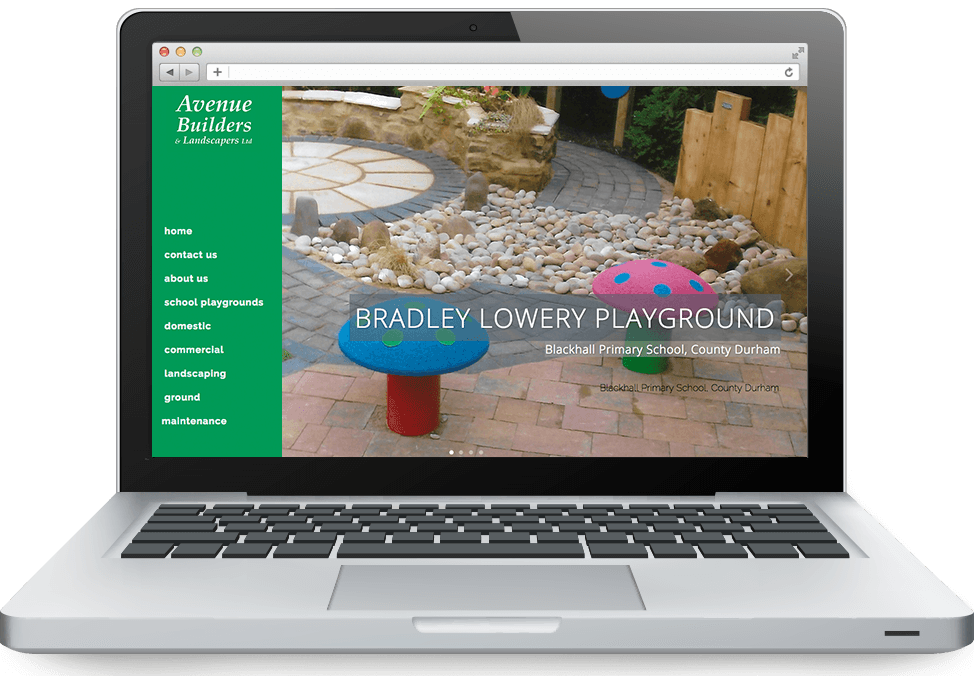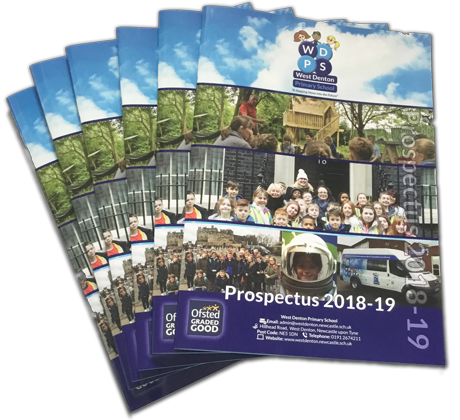 Tuesday 24th April 2018 -
Well done WDPS! Well done to our friends at West Denton Primary School after surviving their recent Ofsted visit. They received a "Good" with "Outstanding" in some areas such as 'Leadership'. Well done WDPS! And we have dropped off another batch of Prospectus's that we design and produce for them every year soon. Head Teacher Mick MingStones over the moon with another fine print and design job from NRG Digital.
Monday 12th March 2018 -

New enquiries coming thick and fast at the moment. One of which is Gary Taylor of Gary Taylor Plumbing and Heating Ltd. Gary covers heating and boiler repairs in the Sunderland and Durham area.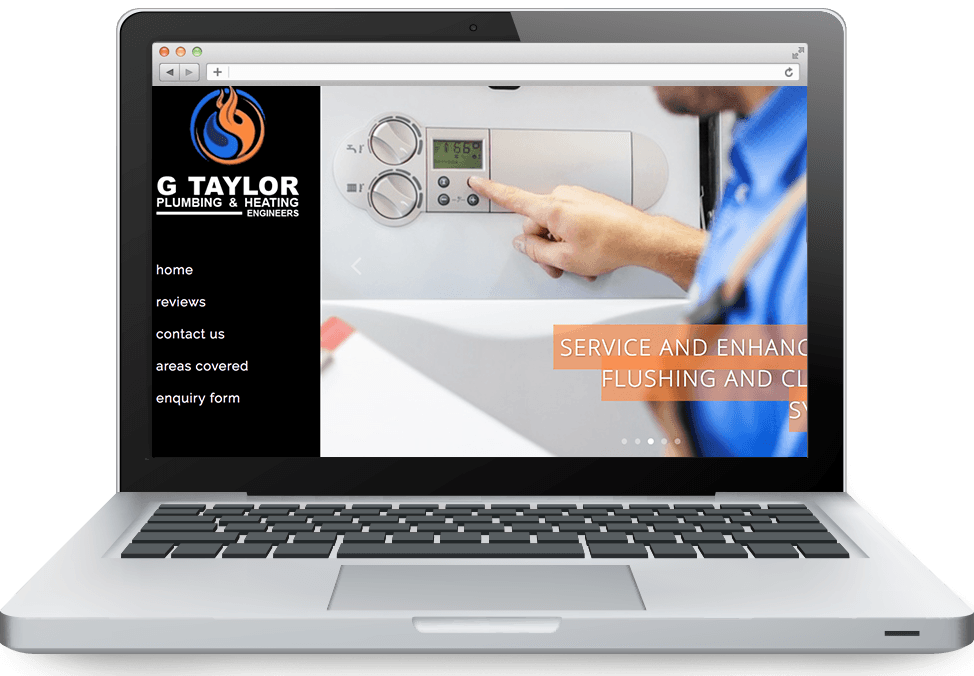 Thursday 1st March 2018 - 'Beast from the East' hitting us hard here at our office at the mouth of the River Wear, North Sea Coast!

It'd be a white rabbit today all right! Made it to work today at last. Leave the car at home I thought. Get the Metro I thought. What could possibly go wrong! 3 hours later, 2 broken Metro trains and 2 buses, finally made it to St Peters!
Monday 5th February 2018
Making Tax Digital is something all businesses need to be aware of. To be honest we hadn't heard of HMRC's plans to implement sweeping new changes to the way we all have to now keep records and submit returns until a new client asked us to develop a new comparison website 'Compare Cloud Accountants'. It's still in the early stages of development at the moment, but our client heard about our SEO prowess and the challenge has been given to us!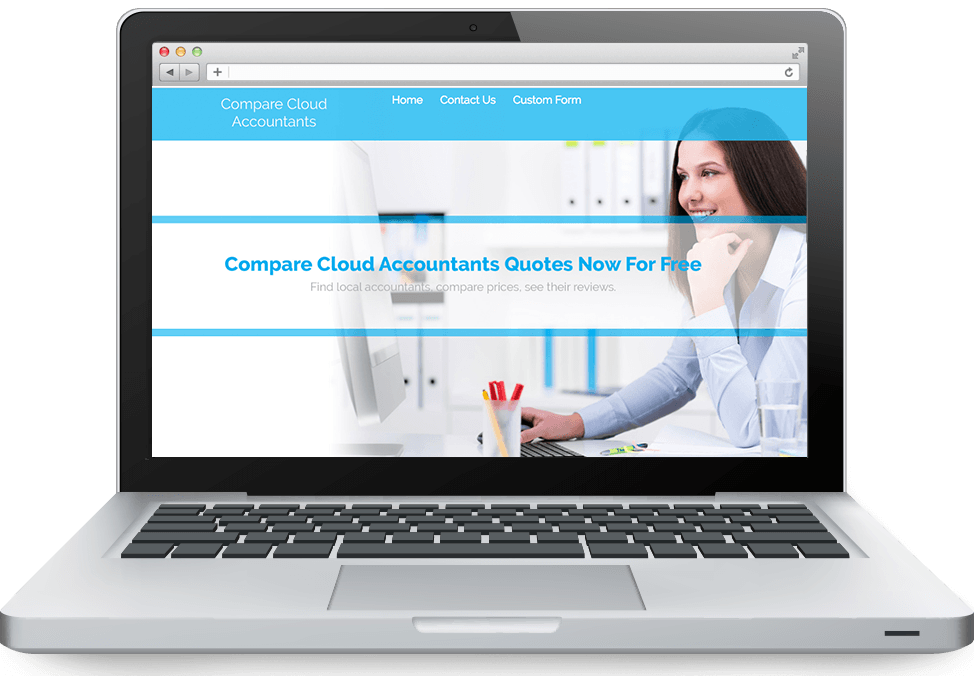 Monday 8th January 2018

Happy New Year! Back to work today for the first week 'proper'. Make 2018 the year you 'go digital'! Nice sunny day on the Roker Riveria today.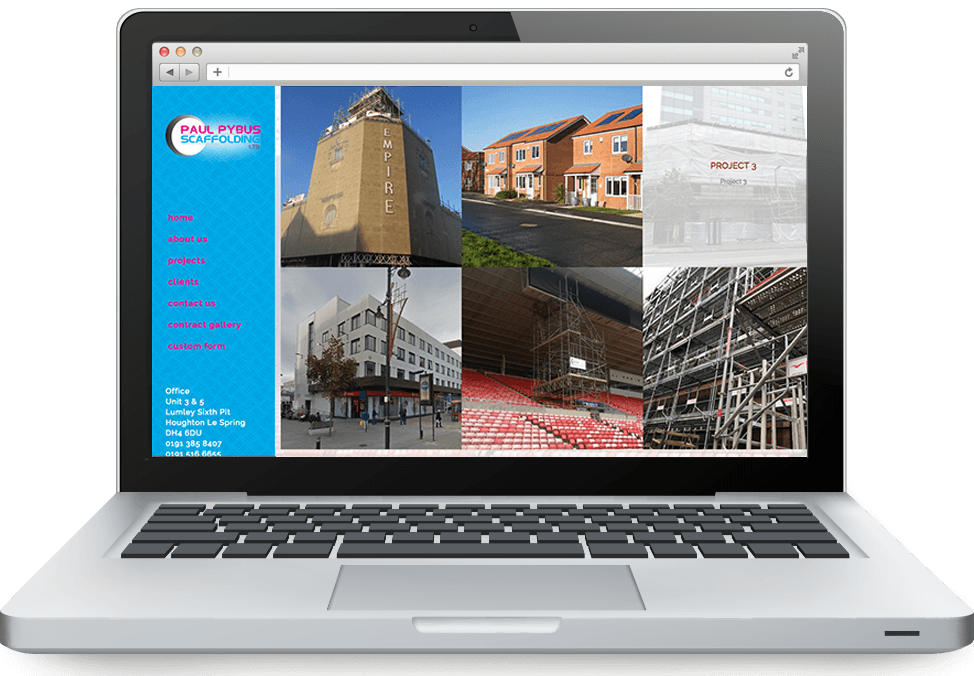 It's good for us to work for clients who do well and it's great to watch them build up with high profile projects. We are proud to be involved with Paul Pybus who is one of the most innovative scaffolding companies in the North East and we are busy working on a fresh look for Paul Pybus Scaffolding Ltd with a view also to getting him top of the first page of Google for "Scaffolders North East" more...

Monday 4th December 2017

Working on a second generation version of Apex Window Films website this week more...
Monday 30th October 2017

Need guidance on your new Google GSuite Email account? Call us on 0191 5342003 or click here for more...
Saturday 28th October 2017

Started migrating some of our clients to new GSuite accounts today more...
Further updates via our Twitter account click here

Last Update: Tuesday 26th September 2017
As part of our ongoing support for staff at West Denton Primary School we have created an online tutorial video to help staff transfer text from a Word document to the website. The simple tutorial is all part of the bespoke training we can give to our clients who use our 'StartASite' content management system. To view the video click here...
Update: Friday 22nd September 2017
Working on a revamp of Apex Window Films website today. Also setting up a few social media channels for our client.
Update: Tuesday 19th September 2017
Our new website for Paul Barker at PB Technique is now ready for launch. Paul is a specialist in car detailing covering the North East of England and he gets to work on some cool cars! Paul is very happy with the work we have done so far and says...
"Love my new website. Spot on! Looking forward to working with NRG Digital". Paul Barker at PB Technique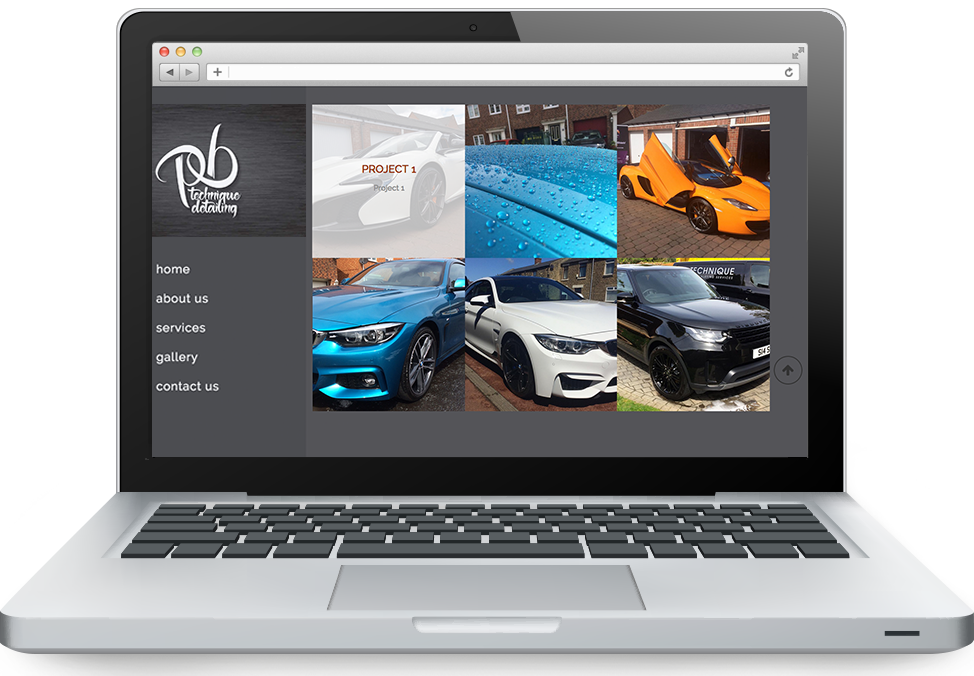 Last Update: Tuesday 4th September 2017
New websites coming online from our team all the time now. Will update soon with new sites for PB Technique and Gary Taylor Plumbing!
Last Update: Friday 1st September 2017
It was great to see an old client from ten years ago come back to us a few months ago, TD Performance have returned to the NRG fold with their new website offering motorists in the North East DPF removal services on diesel motor cars. Further details to follow...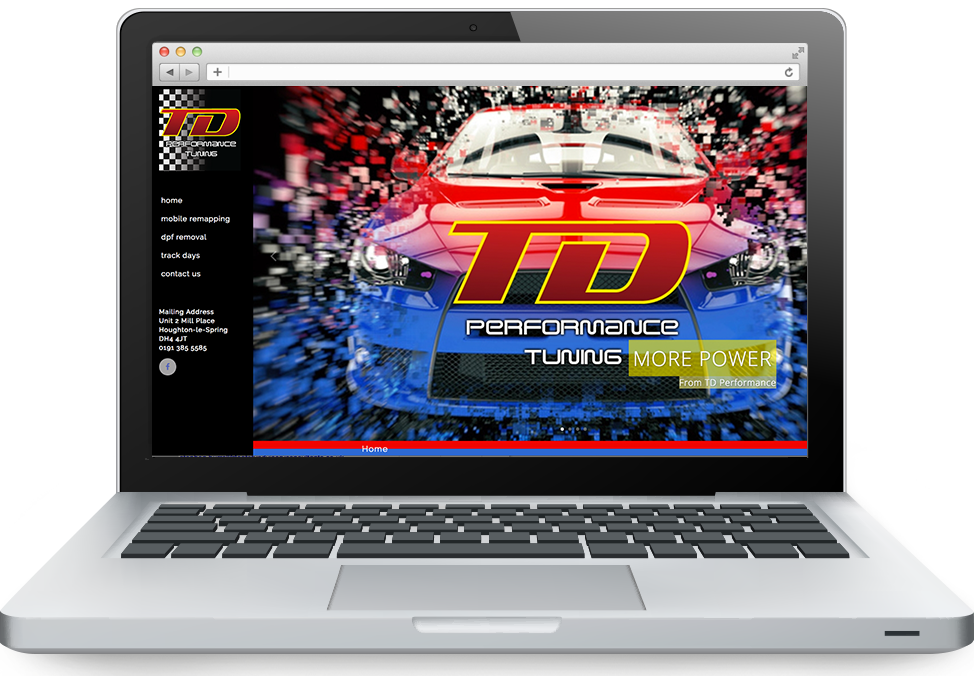 Last Update:Saturday 8th July 2017
Just a flap of a seagulls wings from our office here at St Peters Gate the Royal Navy's flagship H.M.S. Ocean bid an emotional farewell to her home City of Sunderland today more ...
Last Update: June 27th 2017
We are enjoying the cloud based graphic design work we are doing for Steven Tuckwell and his Digital Media Team over at 1st Cloud Accountants in Seaburn, Sunderland at the moment...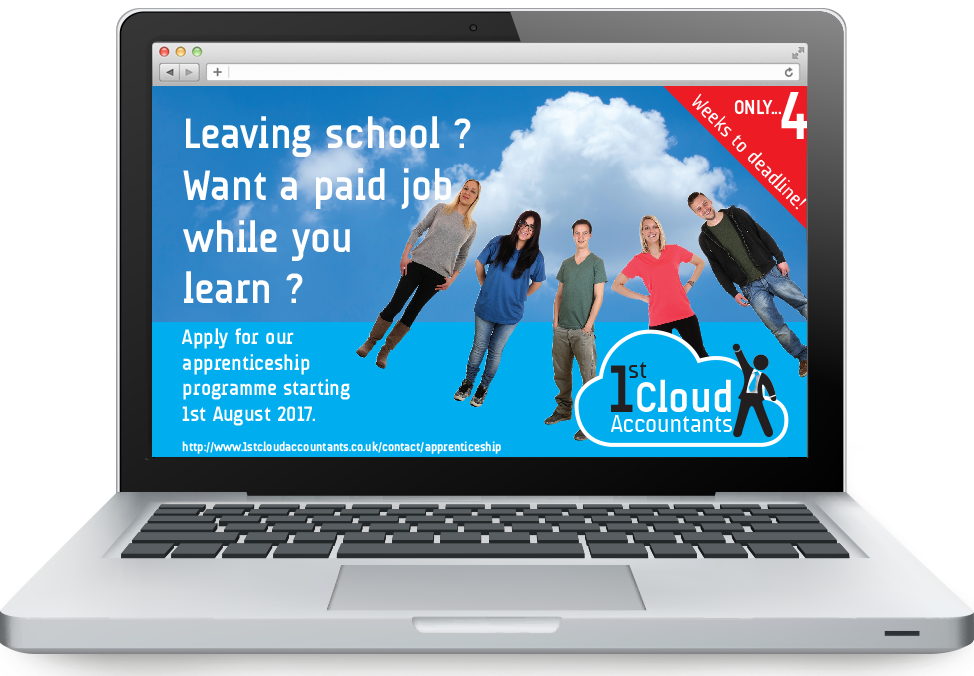 The work we are doing for 1st Cloud Accountants is all taking place online using Microsoft 365 Teams and it means busy people like Steven can give us instructions online and check on progress without it getting in the way of their day today business.
We can develop logos this way:
We can develop leaflets and marketing material:
And even show proofs of online social media feed adverts for the likes of LinkedIn and Twitter: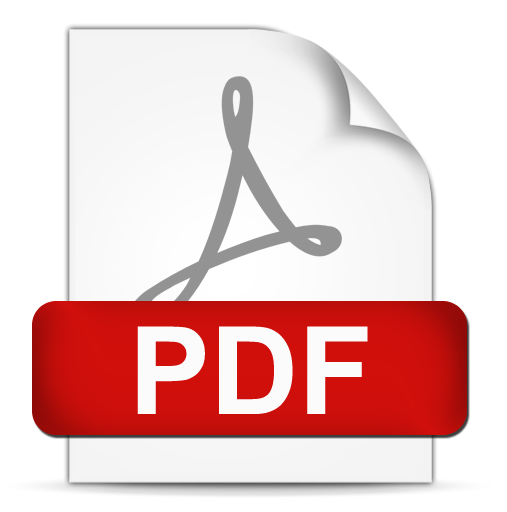 Last Update: June 7th 2017
Very productive meeting with Kevin Smith of Smith Tile & Stone today. Kevin is another one of our customers who is completely satisfied now that we have his website high up on the first page of Google, he is ready to push on with some extra email marketing using our 'Super Email' software.
Last Update: June 6th 2017
Luxury Bathrooms in The North East...
Smith Tile & Stone fit luxury bathrooms in Newcastle and across the North East. Again in a very crowded market we have managed to get them near the top of the Google search for "Bathrooms North East". Kevin Smith came to us in early 2015 and he is now on to his second generation website with us. We are proud to launch his new website with one of our 'Super Email' campaigns! Kevin is a perfect example of a really good tradesman who follows our three step advice. It's a simple as (Step1) take photos and compile a write up of each job you do on a daily or weekly basis. Step 2, email them to us to add to your website on a regular basis and finally Step 3, sign up for our Platinum package and our 'StartASite' software will do the rest! And when we say do the rest we mean work your website to the top of the first page of Google and from there you will start to hear your phone ring and leads come through your website.
If you are a tradesman fitting bathrooms, kitchens or carrying out jobbing building work and want to see an increase in your Google rankings contact us today 0191 5342003. More...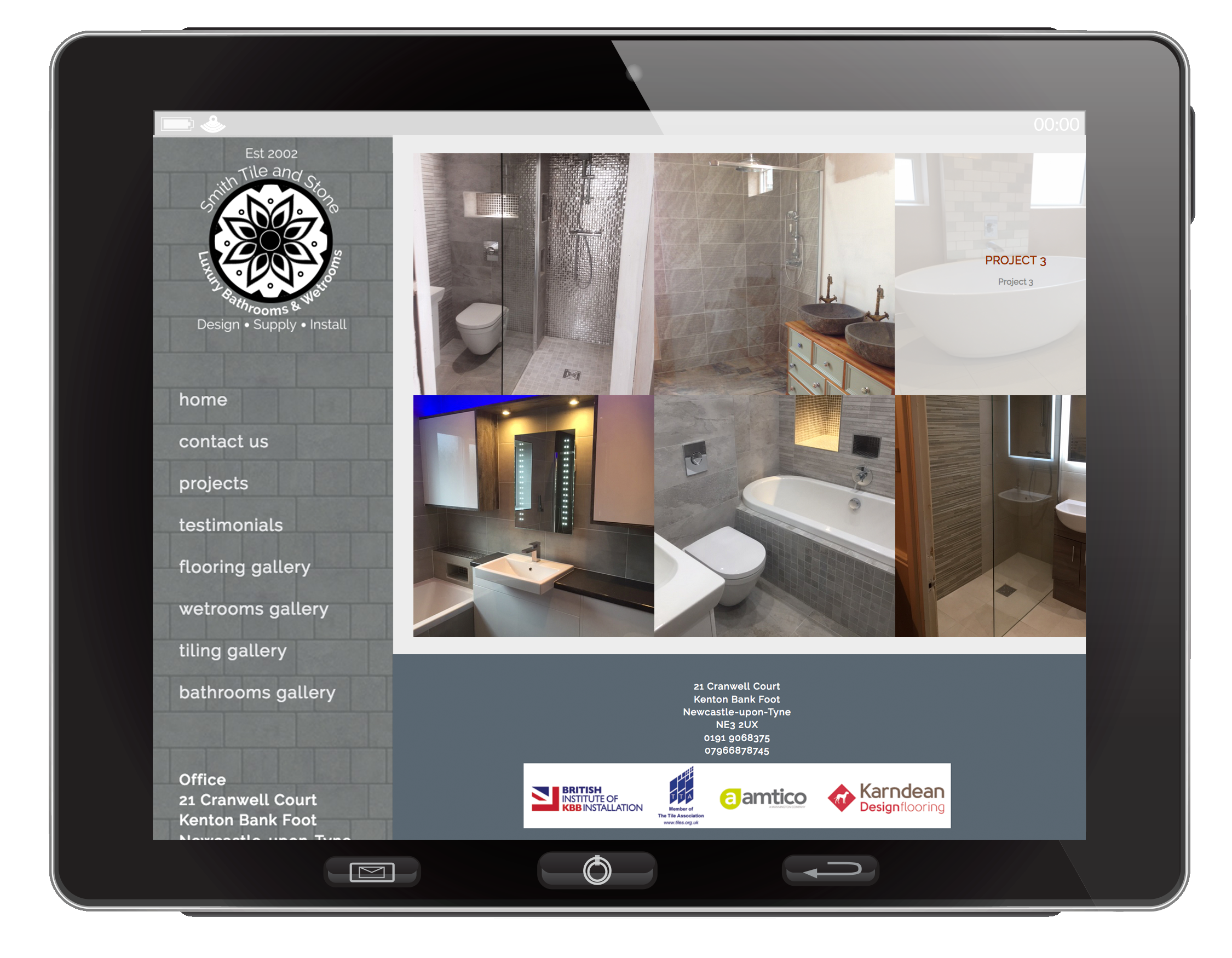 We've also developed a new logo for Smith Tile and Stone, developed some design work which included vinyl graphics for their company van.
Click on the PDF's to see more... (Basically, you can see how ideas can evolve for your new logo. We can come up with several ideas before you make your final choice.)
Last Update: May 25th 2017
We've made a start on a major new website overhaul for a long standing client, UK Driver CPC Network Ltd. UK Driver have delivered Driver CPC courses in the North East of England to drivers of LGV vehicles. There are two websites we have developed for UK Driver, the UK Driver site itself and it's sister site North East Driver. Both are due a fresh look and a modern revamp. The new site will be a good example of how we never stop developing our websites. We pride ourselves on coming up with new innovative ideas! This case study is no different, as we make progress we will be detailing the progress made ahead of it's launch. If you feel your current website is feeling a bit 'stale' contact us today.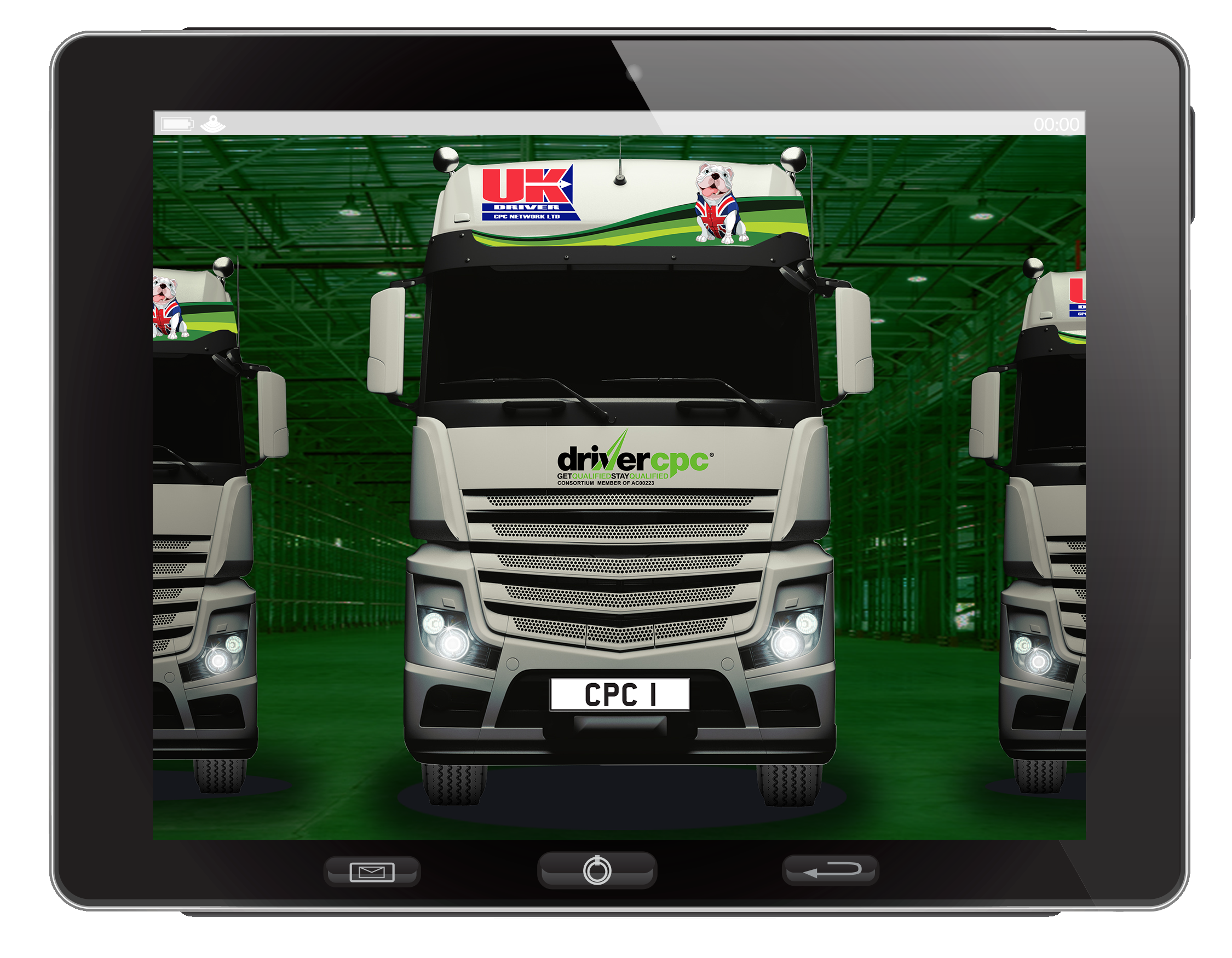 Update: March 28th 2017
We've completed a new site build for Sharpes Cleaning and Maintenance in Nottingham. Ian Sharpe approached us after a recommendation from one of our other long standing Platinum package clients Ivan Kyle of Apex Window Films Ltd. Because Ivan was able to authenticate our promise that we can pretty much get any website on to the first page of Google for a relevant search term for their business Ian of Sharpes was enthused and gave us a call. Ian runs an East Midlands based company, specialising in industrial cleaning, refurbishment from student accommodation to smaller projects. We have revamped his current site and are now working towards the end goal of top slot for the primary search term 'Industrial Cleaning Nottingham'.

For all we all primarily building websites in the North East of England we often build websites for clients across the UK.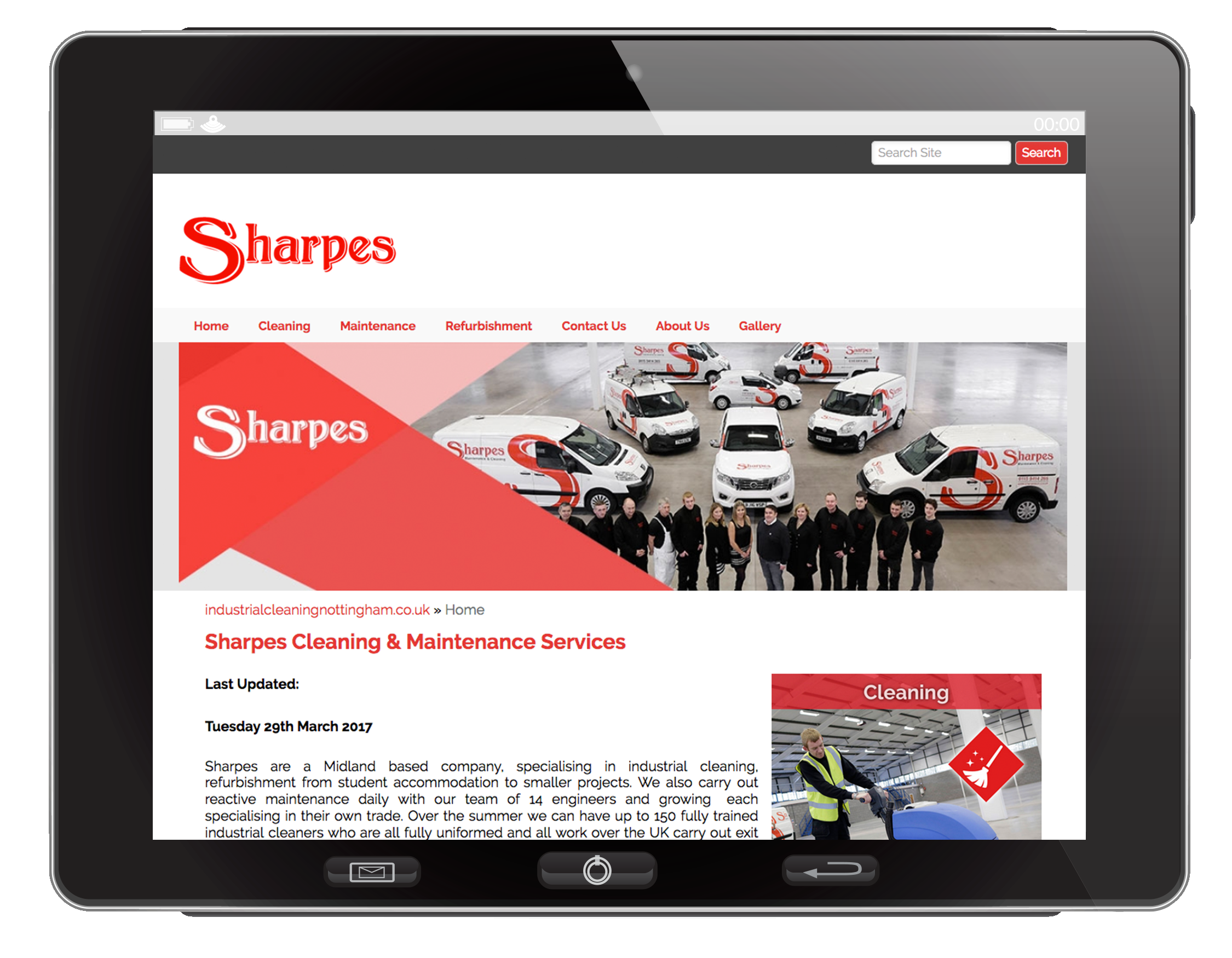 Update: Thursday 2nd March 2017
Meeting Peter Conway today to show him his new basic Work Pensions North East website which for all it is basic, it's all he needs to promote his Auto Enrolment , or put another way Work Place pensions service to small to medium employers. It's a basic 4 page website that showcases ideally our Bronze package and what you would get for £10 plus vat per month. However after that he needs his site on the first page so he has since upgraded to our Platinum package.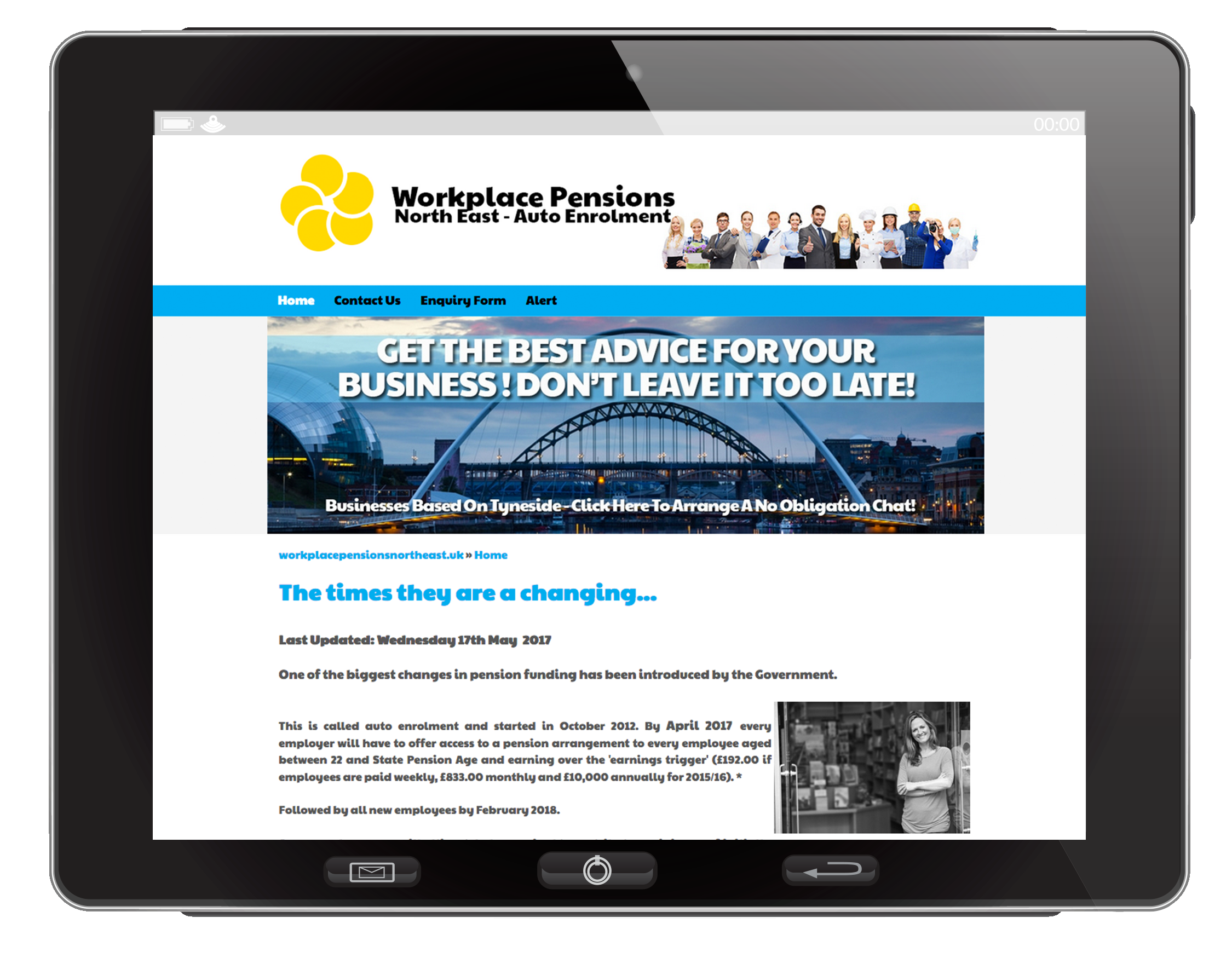 Last Update: Tuesday 31st January 2017
There was some essential maintenance being carried out on one of our 3rd party host company servers last night for more details click here please more...
Last Update: Tuesday 17th January 2017
We will be adding a new 'Support' section soon with advice on back ups, Email clients etc more...
Last Update: Tuesday 10th January 2017
Working on LRH Distribution website today. LRH are one of the leading storage and distribution companies in the North East more...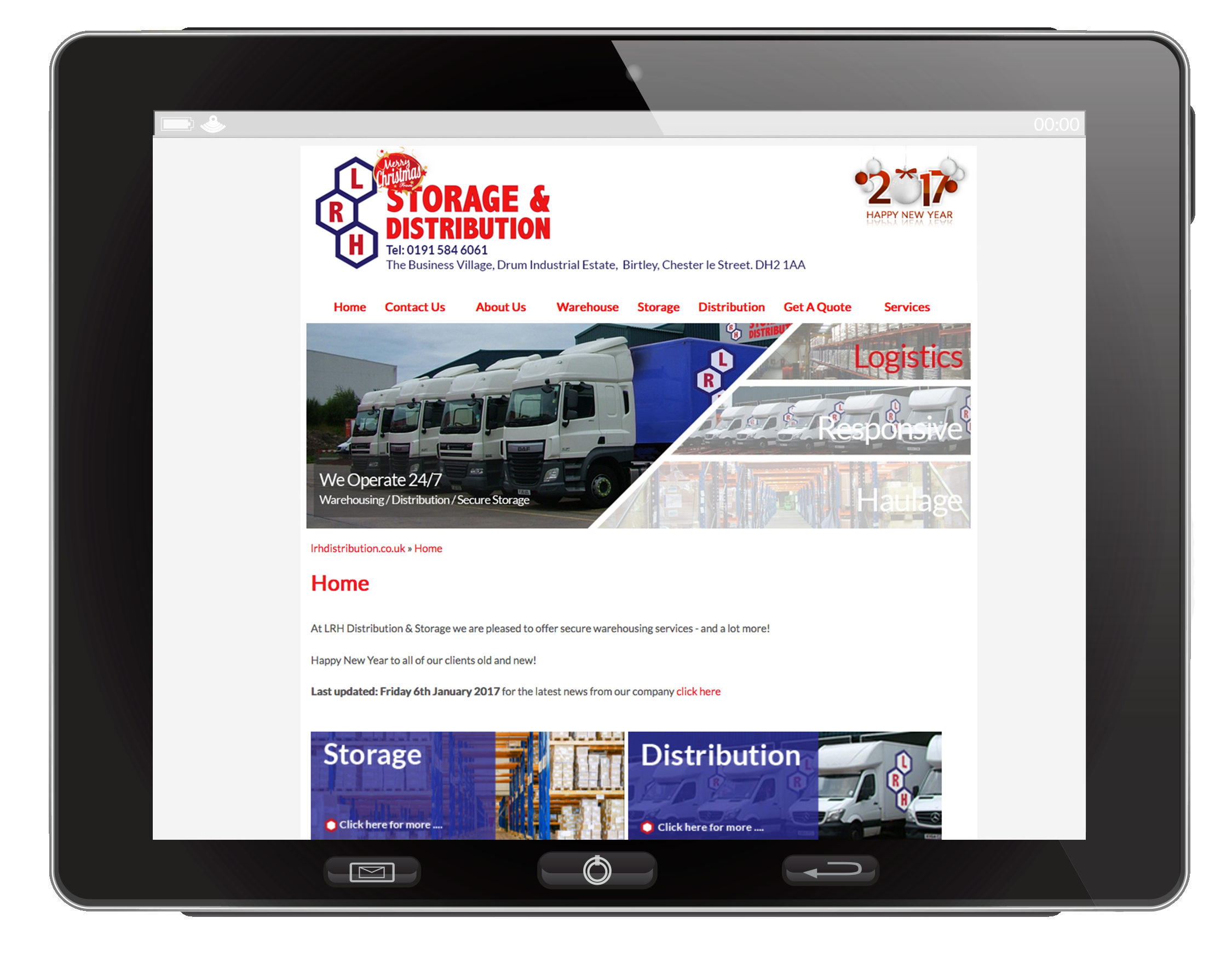 To view our projects from the previous years (2016 and before) click here...
Or Call 0191 5342003 for more information.