Website Design Sunderland
We are NRG Digital
We build websites for Strivers, Grafters & Innovators
Who want to bounce back after Covid Lockdown!
BUILD YOUR BUSINESS ONLINE!
Call us on 0191 5561031 or 0191 5342003

If you are looking for a website designer in Sunderland you have come to the right place!
The three main benefits of choosing us for your website development are:
1. You can deal with us in person
2. We wont speak in jargon
3. We have a proven track record

(Established over 25 years ago!)
Click on the links below to view some of our most recent Case Studies...
We build websites for companies that have thrived during lockdown... and that are looking to scale up further as the economy 'bounces back'!
UK Driver CPC Network Ltd, with a multi level digital approach to their on-line presence were able to adapt to a challenging business environment during the Covid 19 enforced 'lockdown'. With classroom based courses with up to twenty lorry drivers attending cancelled, agile changes were needed to UK Drivers business model. By adapting new digital solutions, UK Driver were able to capitalise on the new directive that came from government agency DVSA, that allowed approved training providers like them to deliver training online via Zoom to key workers such as supermarket HGV delivery drivers.
Below we list just some of the digital solutions we provided for UK Driver that we can help you integrate into your business on-line! more...
* PayPal Payments * Driver Licence Upload * Email Marketing * Google Ranking * App Development
We build websites for high quality tradespeople.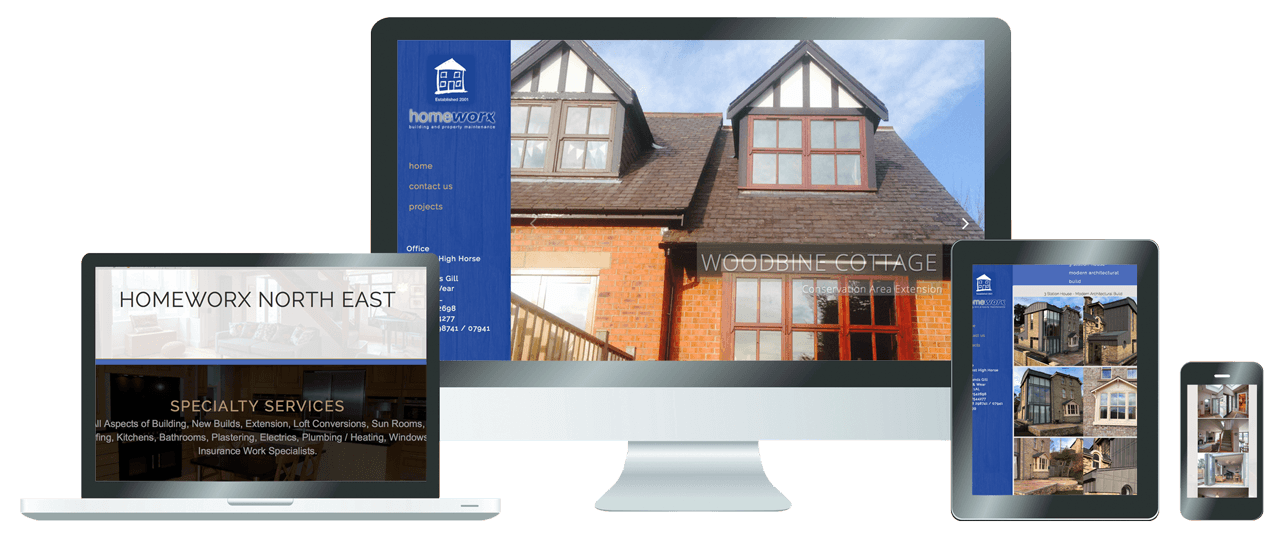 Are you looking for a website designer based in Sunderland?
The benefits of dealing with us are
* We've been established since 1995
* You can deal with us in person. Visit us during normal office hours
* We can spread the cost of your new website
* Plain speaking, we wont try and blind you with techno babble
Call us on 0191 5561031 or 0191 5342003
Are you looking for the best price on a new website near Sunderland, Durham, Newcastle?
We can give you a great no obligation quote on revamping your current site if you need to move it to us!
Our Services
What we do
NRG Digital.
Pay as you go website design based in Sunderland,
North East England and beyond.
Call us on 0191 5561031 or 5342003
Tuesday 16th August 2022

We have moved most of our clients websites to Amazon Web Services and now most of our clients emails use Google Workspace. If you are one of our clients and would like to monitor any potential problems either click here or follow us on Twitter for regular updates.
Big push to get our clients City Dental, up Google for Dentists in Sunderland this week!

Cloudy and 'close' here again on the Roker Riviera, sun has gone from last week to be replaced by drop in temperature. And NRG, sounds like energy. That's a tenuous link into Business Energy Claims North East company TPI Claims who we will be having a revamp of their website for soon. Meanwhile, despite Covid 19 we have still kept busy with projects from new and existing clients. Hope you are coping well with the challenges facing your business. We know it's not easy but if there is any way we can help? Adapting your business to go digital online is something we may be able to assist you with.

From the begining of 2021 we have started detailing all the background work we do here as a team at NRG Digital for our website clients. Click here for the constant ongoing development which includes keeping up to date with what all the silicon valley giants are doing with their digital platforms and how that ties in with your website and email services.
We are now able to hold face to face meetings again at St Peters Gate due to Covid restrictions easing. These changes came into effect from Monday 8th March 2021. In the meantime anyone needing support can call us on the usual landline numbers (on divert from St Peters Gate to our mobiles) or mobile 07889 875406. Or drop me an email gary@nrgdigital.co.uk Or put an enquiry through by clicking here.

We are at work every day (Monday to Friday) at an office where you can (masks are optional) still make an appointment to come and see us at and have a chat. A lot of website designers in Sunderland work from home. But one of the benefits of dealing with NRG Digital however is that we have a permanently staffed office (Monday - Friday 9.00 am to 5.00pm) and have done so for the full term of our time in business.
We started building websites in 2000 (and before that we designed for print) and have a proven track record over the last 20 years. Call us now on 0191 5342003 to make an appointment to discuss your needs. Or click here and we will get back to you.

We build websites for trusted tradesmen (and women) with businesses that compliment peoples homes.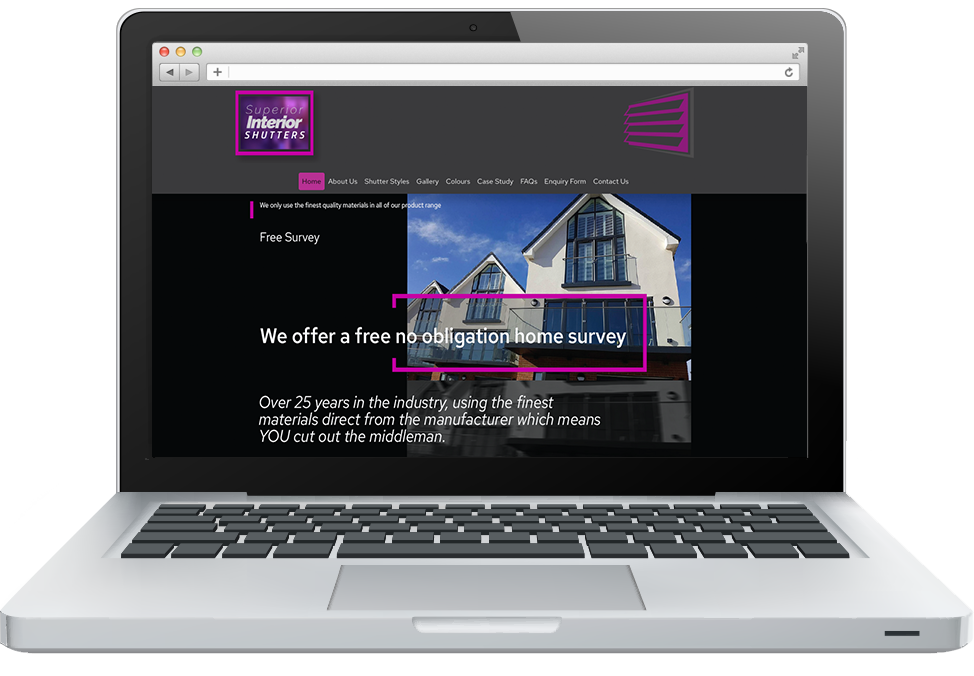 Steve Chisholm of Superior Interior Shutters came to us with over 25 years experience fitting blinds and plantation shutters in clients homes. He was frustrated at other web companies and the results they were delivering. Hopefully now he has come to us we can get him back on track. Click here to view the new site we are developing for him where you can view his many successfully completed installations of interior shutters.
We build websites for companies in the Nissan supply chain.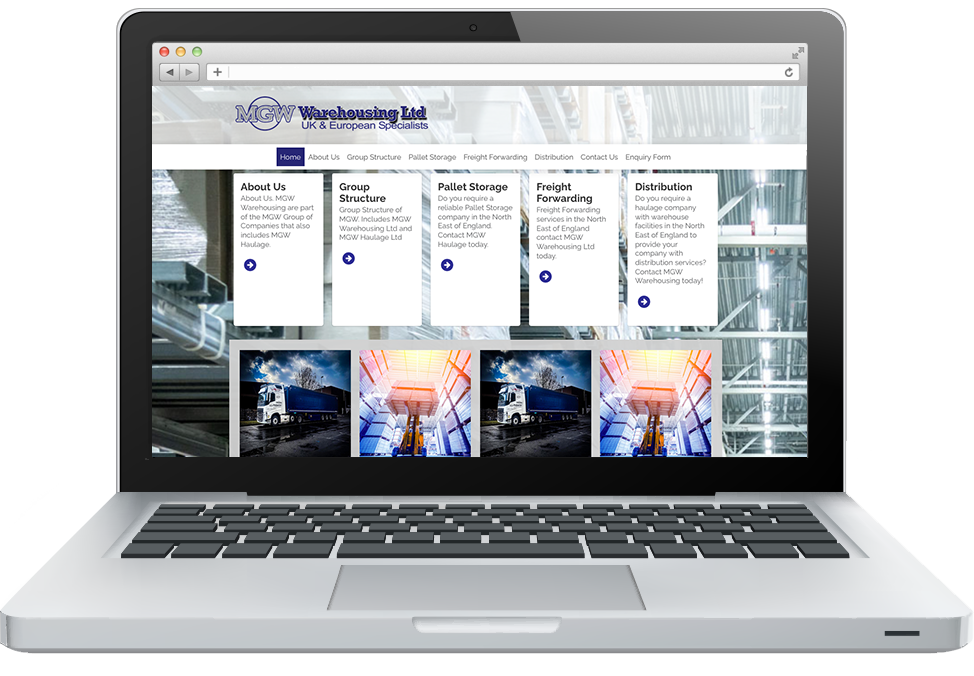 MGW Warehousing are part of the MGW group of companies. After we brought some high impact enquiries in to sister company MGW Haulage, managing director Graham Welsh had no hesitation enlisting NRG Digital in building a second site for MGW Warehousing who specialise in warehouses in the North East. In particular they service tier one suppliers to Nissan here in Sunderland.
We build websites for companies that want to buy your car!
Looking to sell your used car, van, camper van, motor home or caravan in the North East of England? Visit the site we have just built for sellmycarnorth.co.uk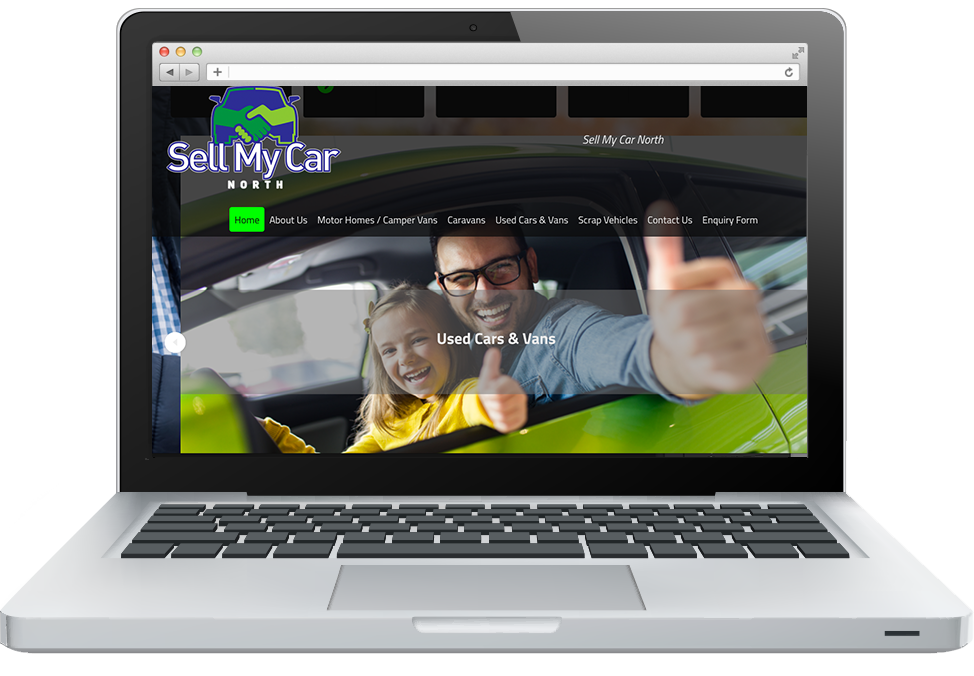 We build websites for grafters like Glenn...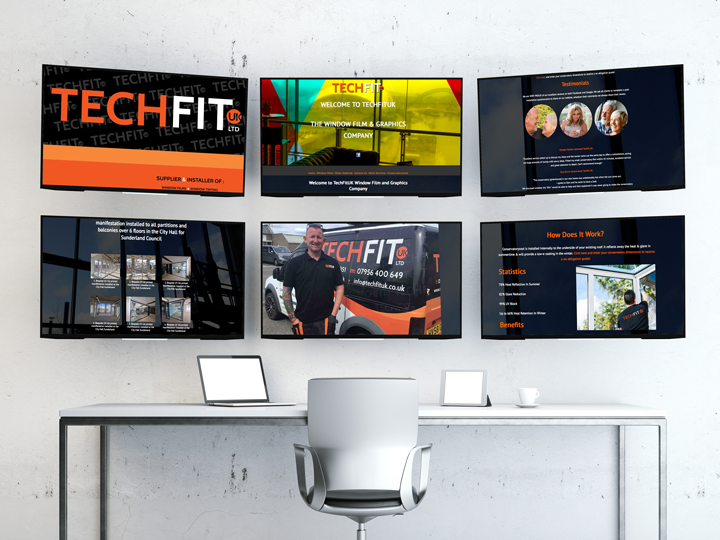 Glenn is a grafter. Glenn of TechfitUK has been with us a few years now. He has built up a successful business applying window / solar film to both commercial and domestic customers.TechfitUK is a leading supplier and installer of all types of window film throughout the UK. On the commercial side his client list includes the likes Aldi, Sports Direct, DWP, many local councils (he has just recently worked on the new City Hall in Sunderland), car dealerships such as Seat, Hyundai and many others. On the domestic side he applies solar reflective film to home owners conservatories to ensure they can benefit from being able to sit in the conservatory in the winter (and it not being too cold) whilst enjoying the benefits of the conservatory in the summer (not being too hot).

Be like Glenn!
Click here to find out how we have helped Glenn bring in leads and showcase his business and how we can help you!
We build websites for training companies across the country...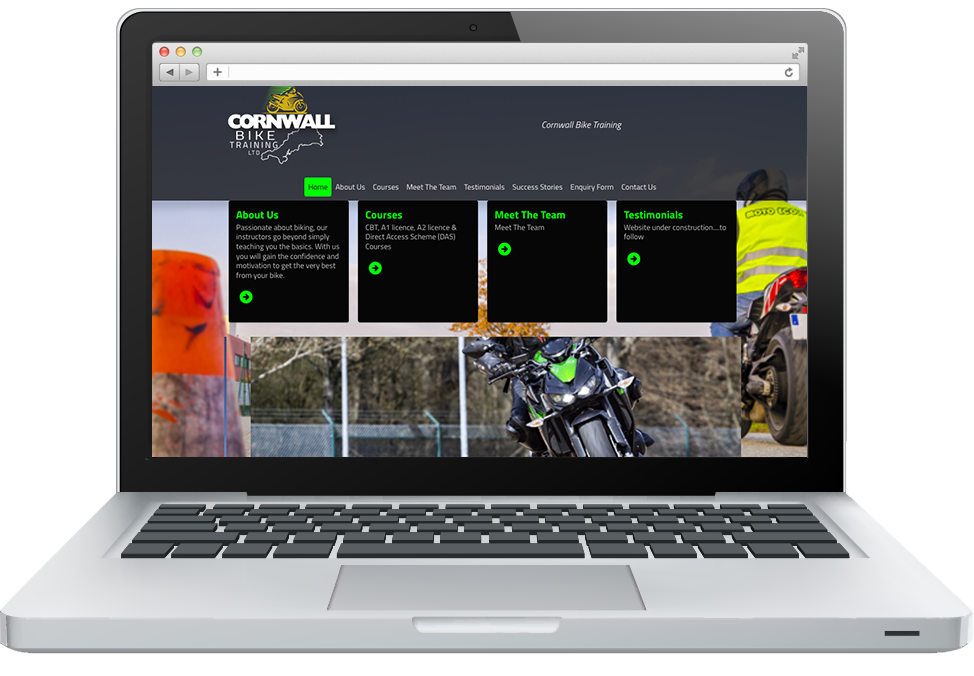 New website launched for Cornwall Bike Training! Passionate about biking, their instructors go beyond simply teaching you the basics. With CBT you will gain the confidence and motivation to get the very best from your bike.
We build websites for other creative business start ups.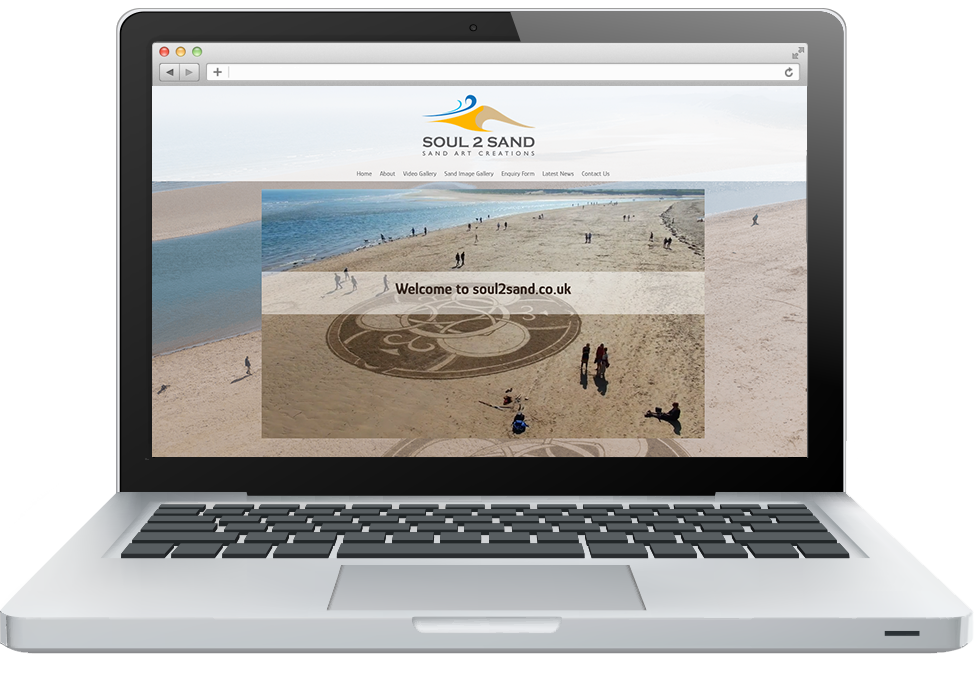 We are pleased to be associated with creative sand artist Claire Eason and her new business soul2sand. Claire came to us in September and requested we build her new website. With her new venture she designs large scale sand art images and films them with her drone. By her own admission the website she had made herself was not professional enough and she expressed a desire in that she would like to present herself 'in a more business like way with a new site, new name and logo'. After several very productive meetings we launched Claire's new website in October and it is already starting to receive enquiries!
We build websites for people starting businesses that can be run post Covid.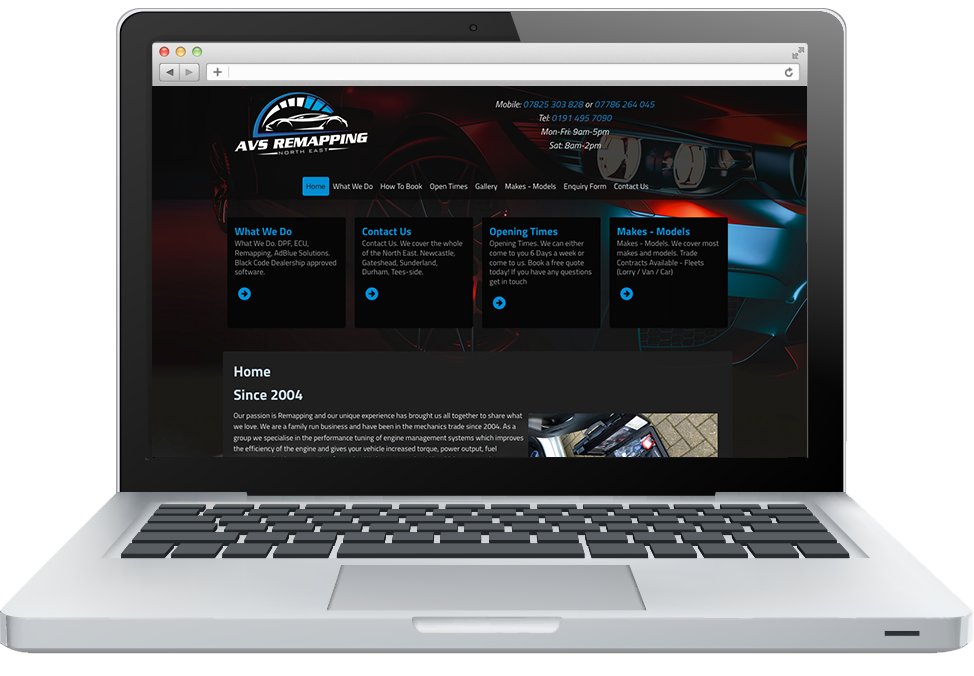 AVS Remapping can increase the fuel economy and performance of your vehicle. New website launched for this this client click here to view remapping in the north east.
We build websites for businesses with multiple locations.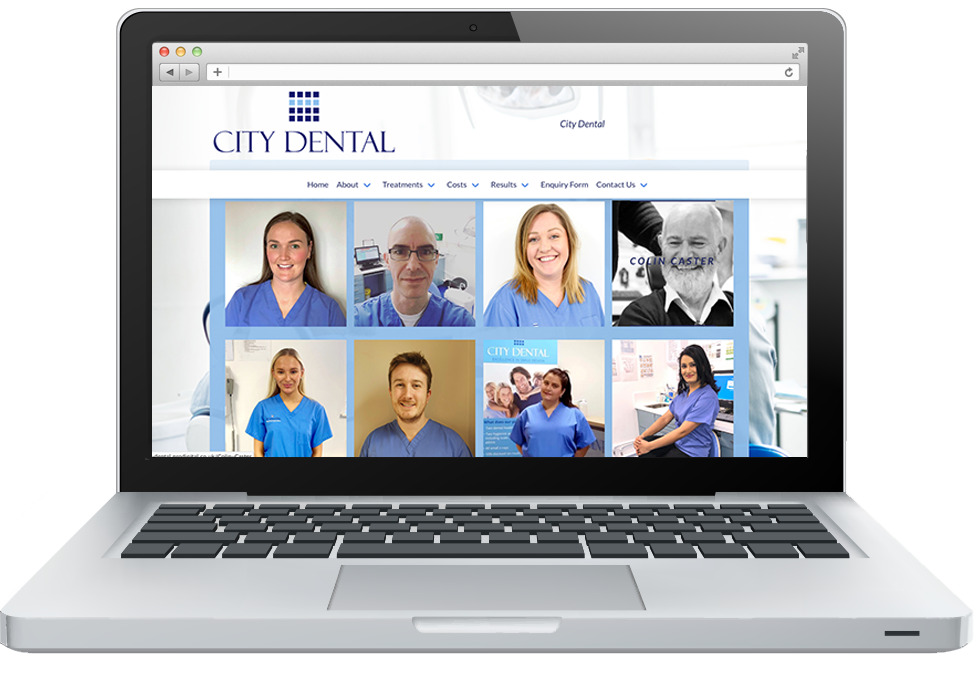 City Dental going live soon (End of July 2021). We are proud to be associated with the great teams at City Dentals surgeries across the North East! The new website we have built for Colin and his staff will be live early next week. Click here to view the new City Dental website. And if you are looking for dentists in Newcastle or dentists in Sunderland click on either link!
We build websites for professional people setting up a business on their own for the first time.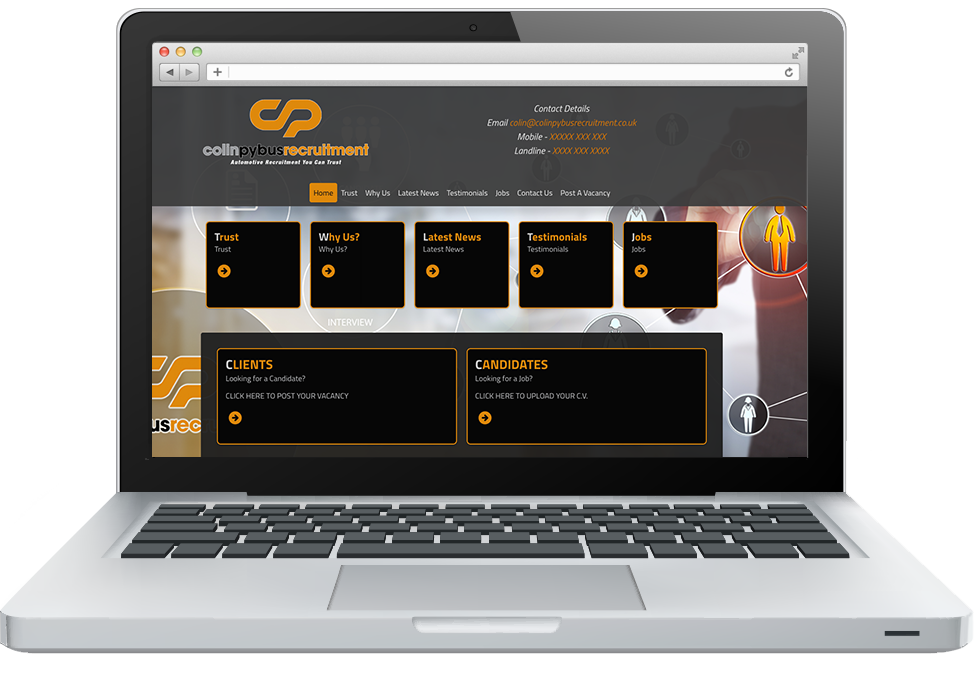 Colin Pybus Recruitment going live soon (End of July 2021). Good luck to Colin Pybus setting up his recruitment agency online with help in the form of a new website from us. Colin is well respected and a familiar figure in the North East and beyond in the retail motor sector.
We work with people who work with famous people!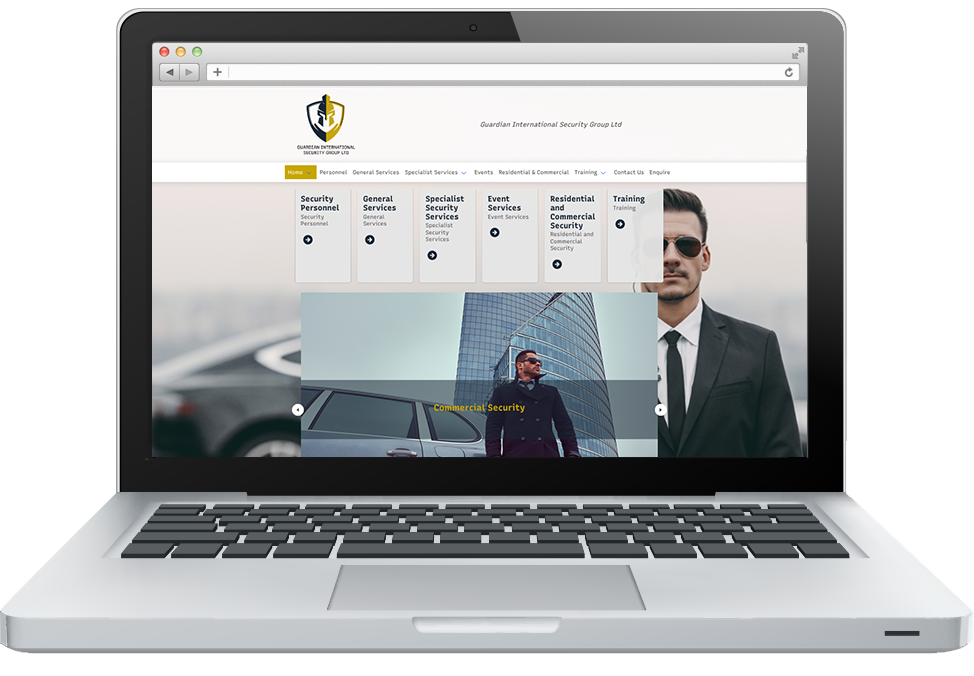 With a client list including Boris Johnson, Arnold Schwarzenegger, The Beckhams, Downtown Abbey as well as working in many of the worlds security hotspots, it was a pleasure and a very interesting project completing this new website for Guardian International Security.
We build more than one website for some of our expanding customers!
For one of our long term clients, Paul Pybus of Paul Pybus Scaffolding group of companies we are actually in the process of building three different websites for the three different companies within the group. This site below is relating to fall protection solutions delivered to large construction developers by the group. Click here to view NOLA Fall Protection Solutions new website.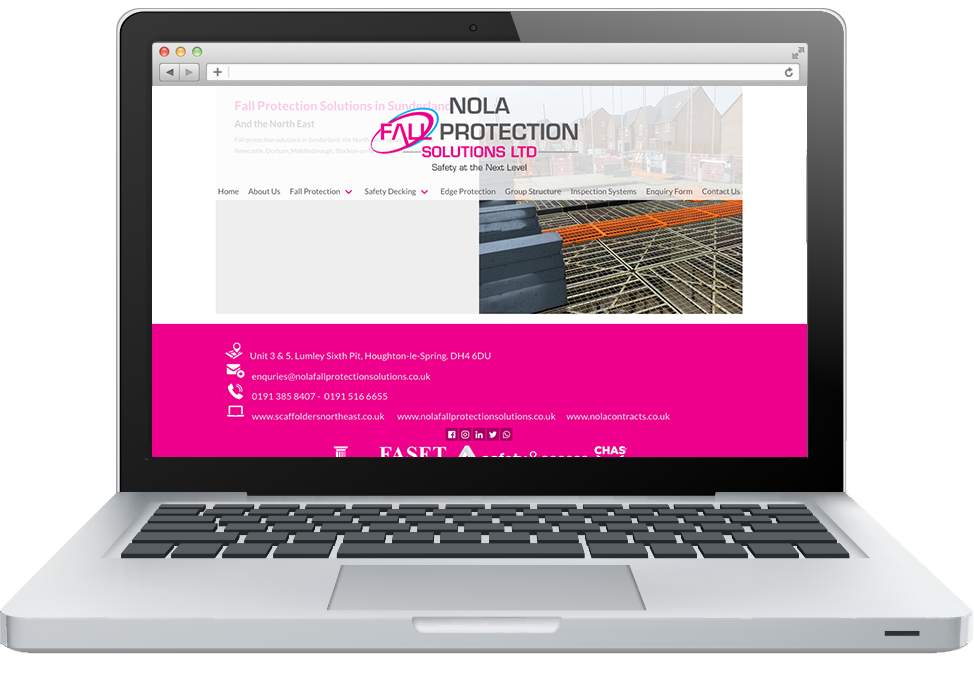 We build websites for bathroom installers in the North East
For some of our clients we actually build and look after more than one website. Kevin Smith of Smith Tile and Stone has been with us a few years now and has diversified his business into the new trend of using microcement to improve peoples bathrooms. So we have built a second additional site for this side of his business. He is one of the go to bathroom installers in the North East, check out his many glowing testimonials.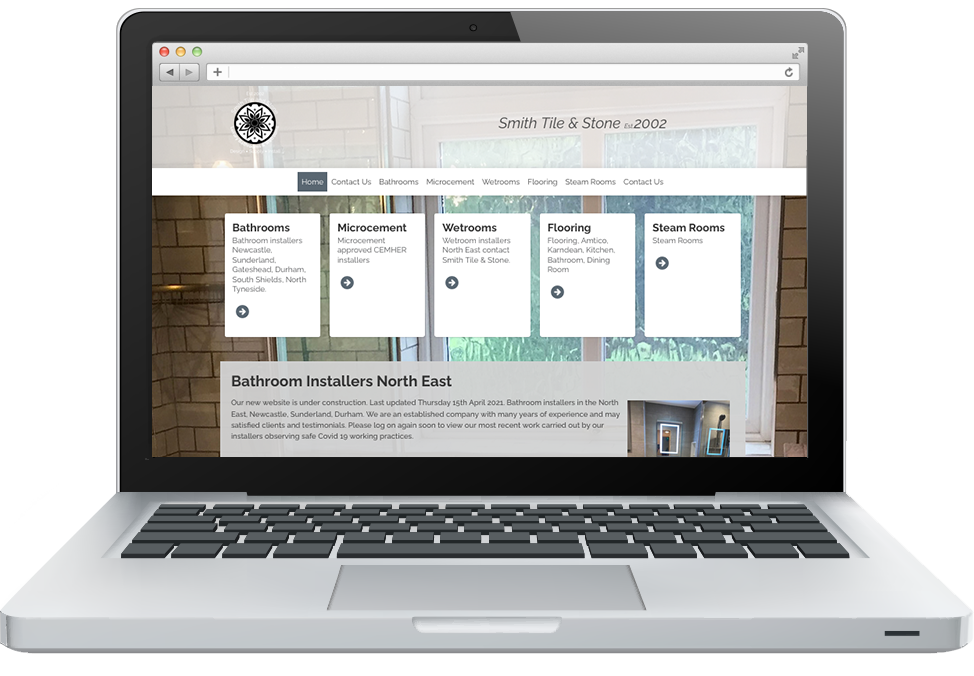 We build websites for professional people needing a web presence.
David came to us a couple of months ago and asked us to build him a website to advertise his architectural services such as plans for loft conversions, extensions etc. Another satisfied customer. If you are in the Newcastle / Sunderland / Durham area looking for someone qualified in these architectural services in the North East.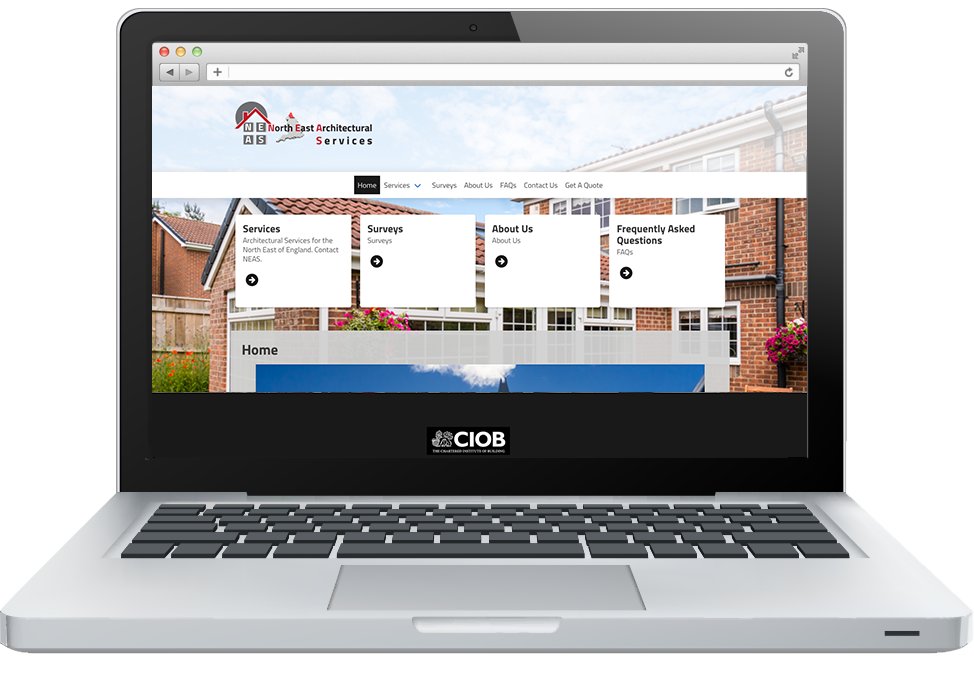 "I was unsure about the content and structure of my new website. Gary did explain that the price would be cheaper if I supplied this but, as I needed guidance I didn't mind paying the bit extra to sit with Gary over 4 meetings and develop the ideas as we went. Ultimately I have ended up with a superb website and would highly recommend NRG Digital"
- David Jackson North East Architectural Services
We build websites for UPVC Paint Spraying companies.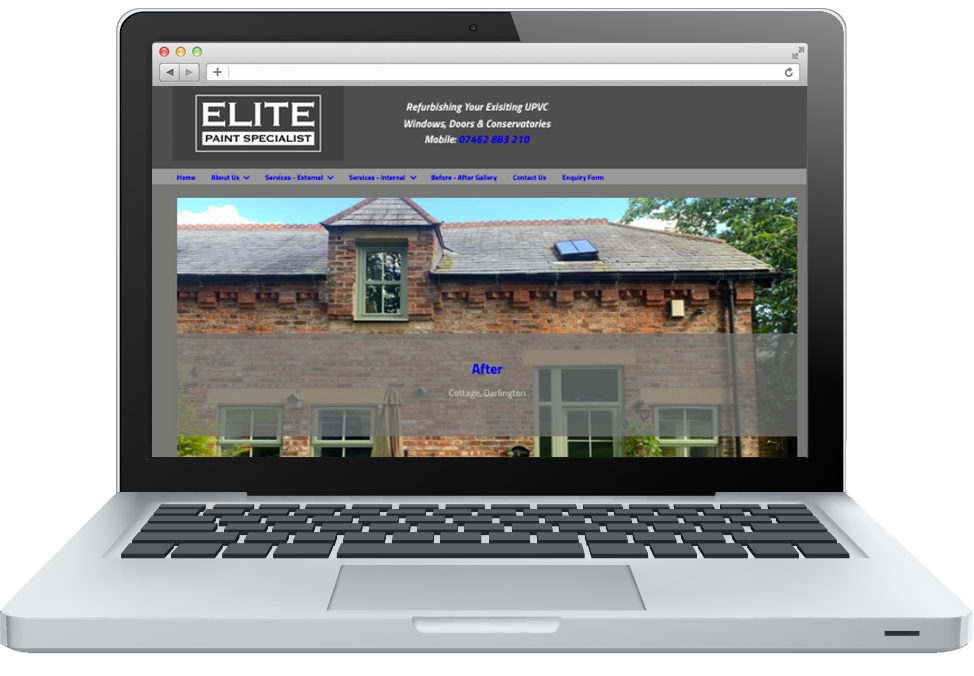 We are working on another new website this week for Elite Paint Specialist Ian Elliot who is finding success with his new business which transforms external UPVC double glazing, doors, windows, conservatories, as well as internal kitchens and fireplaces. Click here to view his new website.
We revamp websites for our long term existing clients.
We are working on another of our exisiting clients website revamp this week for Town & Country North East who are leading supplier and fitter of kitchens in Sunderland. Town & Country have been with us over 15 years, and in that time have had their website revamped several times. So if you are looking for a trusted website company to support your business for the longer term contact us today! Pleased to see Town and Country moving back up the search engine rankings.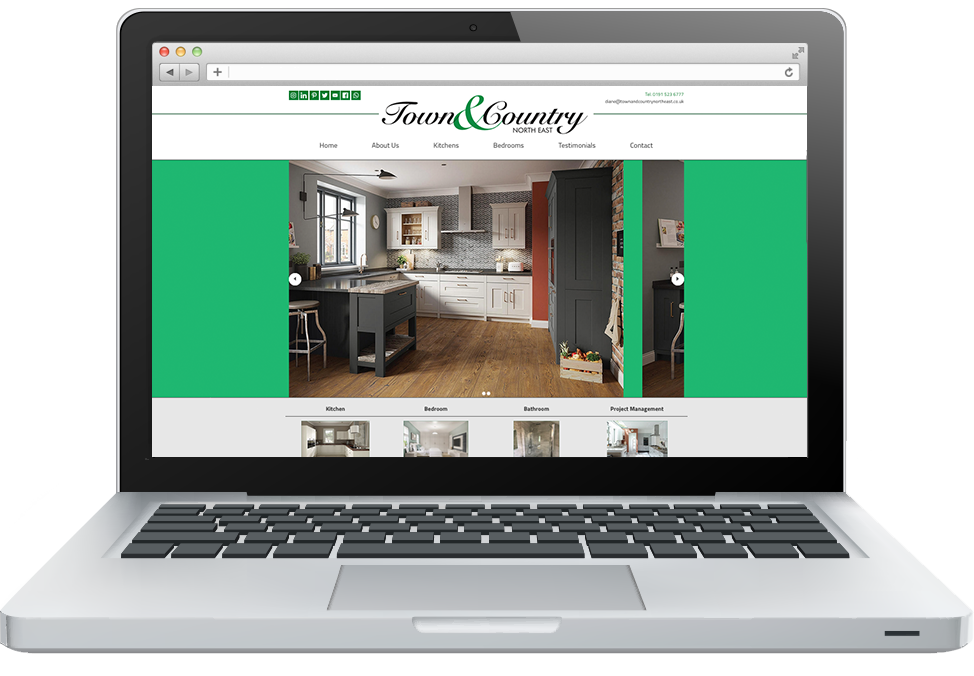 We build websites for ambitious start up companies.
We are working on another new website build project this week for TPI Claims Company who specialise in claiming back revenue for mis-sold commercial energy contracts. The project is more than just a website build in that client requires a complicated 'compensation calculator'. We have an in house team of top notch developers who can more than handle bespoke requests such as this.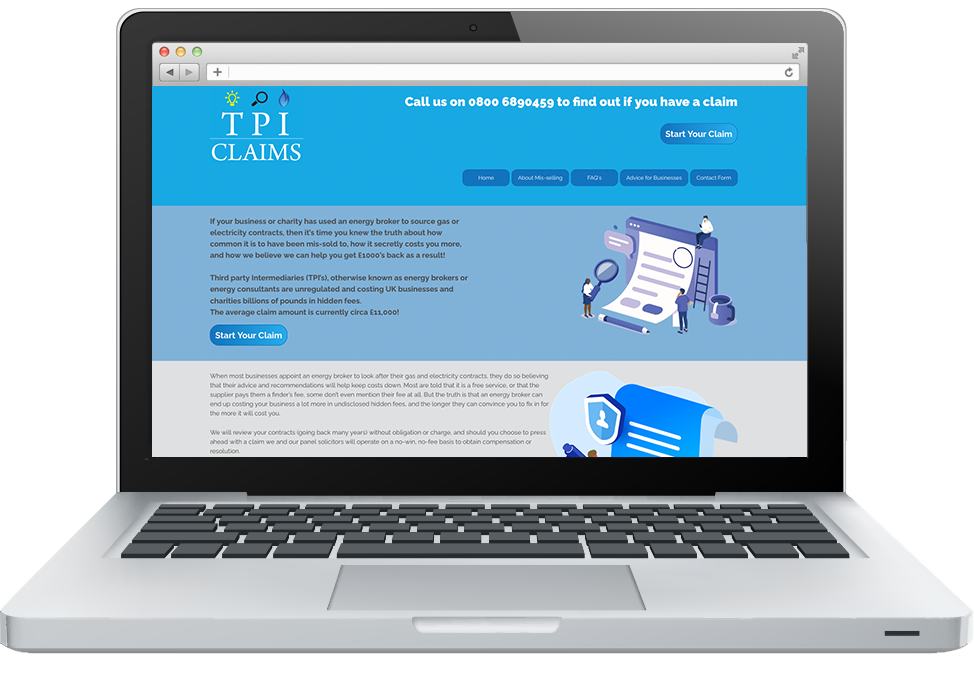 We build websites for established businesses working across the U.K.
We are working on another new website build project this week for local commercial electrical contractors, Project Electrical Solutions Ltd. PES do some really high profile work across the country and it's a pleasure to work with an established company who are successful in their particular field. Also big help to us putting their website together when they come to us already organised with photos of work they have carried out such as in their case retail shopfits in London, Birmingham and across the UK. Names such as Louis Vuitton, Jimmy Choo, Hugo Boss, Regent Street in London, Selfridges in Birmingham, Terminals 3 and 4 of Heathrow Airport and many more.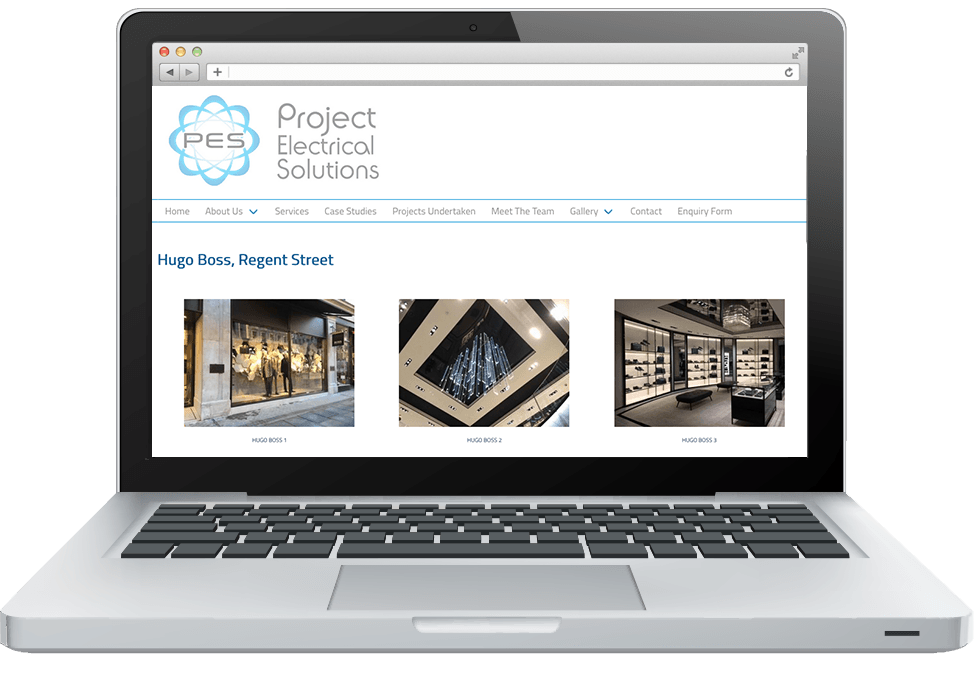 Looking for a price on Websites in Sunderland?
Most of our recent website builds featured on this home page were built for an initial fee of between only £500-£1000 plus vat. Each step of the way we will explain and itemise how much each aspect of the work is costing.
In 2020 we will be looking for business owners who really want to push on hopefully for when we leave the EU and finally put the whole Brexit thing behind us. Personally I am of the opinion that there will be a lot of pent up demand and investment coming through. Yes, there will be winners and losers...but it's up each individual to make sure they've thought the implications through and make plans to be one of the winners!
If that involves a possible new website or revamp of your existing website contact us today to arrange a free no obligation chat. Click here.
Monday 28th October 2019 -
Really good productive meeting with one of our long term clients this morning. David from Ashley Gases Ltd needs full PayPal integration and a marketing package. Watch this space!
Wednesday 23rd October 2019 -
When we say first page of Google we mean first page on Google! Ashley Gases, gas suppliers in the North East now on the first page thanks to us. Ashley Gases have been one of our clients for well over 20 years. They are currently progressing nicely up the Google rankings for the search terms they asked us to be found on. Ashley Gases are suppliers of bottled gas, mainly to the licenced trade in the North East of England.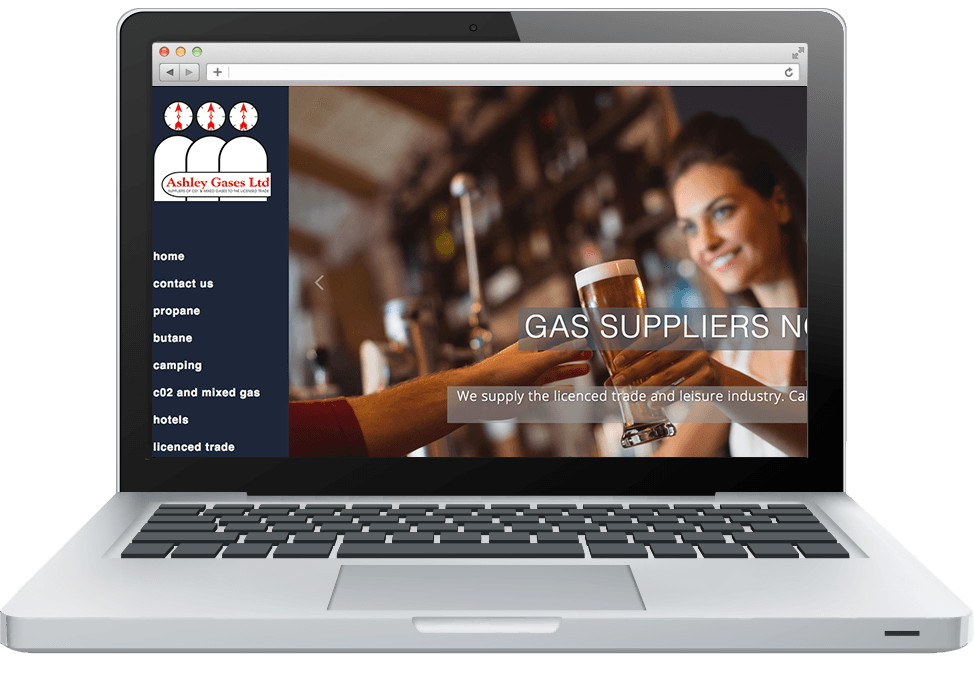 Monday 30th September 2019 -
Launch of a new site today (revamp of their old one) for Commercial Joinery Specialists Ltd.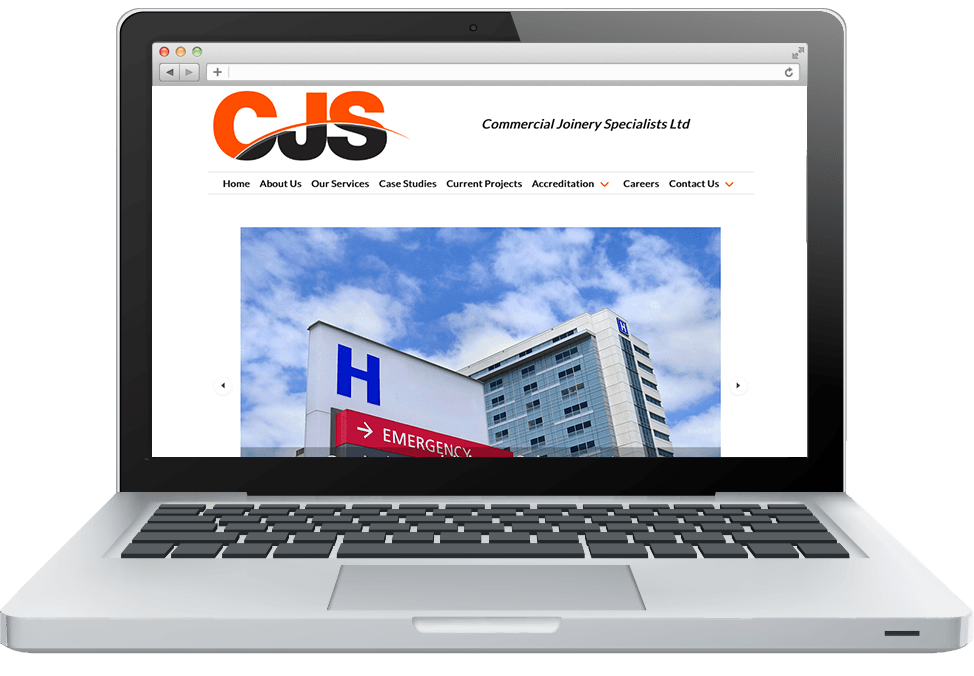 The directors of CJS Ltd came in to our offices for regular meetings over a period of a few months to work out which projects to showcase as case studies on their new website. If you feel that you would benefit from face to face 'brainstorming' sessions on what to include on your new website contact us today!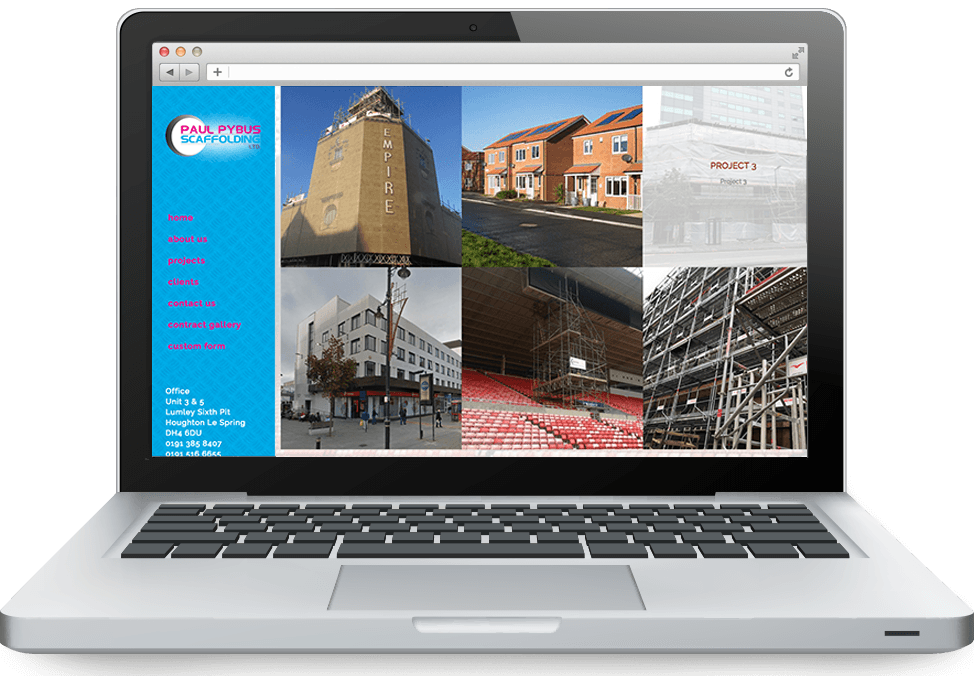 It's good for us to work for clients who do well and it's great to watch them build up with high profile projects. We are proud to be involved with Paul Pybus who is one of the most innovative scaffolding companies in the North East and we are busy working on a fresh look for Paul Pybus Scaffolding Ltd with a view also to getting him top of the first page of Google for "Scaffolders North East" more...
To view our projects from the previous years click here...
Or Call 0191 5342003 for more information.